Is This The First Vine Attack Ad? GOP Targets Colbert-Busch With Terrifying 6-Second Loop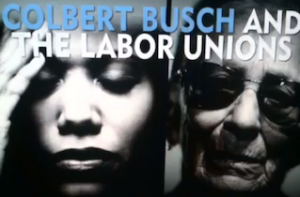 Twitter released its new Vine app in January as a way to send short, 6-second, looping videos in the same way users send photos or 140-character message to their followers. And just three months later, the political world has its first Vine attack ad.
The NRCC, which has been making a strong play at internet relevancy with its BuzzFeed-like blog, released the ad attacking South Carolina Democratic Congressional candidate Elizabeth Colbert-Busch on Twitter Friday morning.
It's a simple message, written on the screen and delivered in a somewhat creepy monotone by a female voice when the sound is turned on. "Colbert-Busch and the labor unions mean fewer jobs for South Carolina," the voice intones over and over, while some industrial-sounding music plays in the background. The visual consists of a rotating slate of solemn black and white faces, presumably those who would lose their jobs if Colbert-Busch is elected.
The extremely limited time and space on the ad does not allow the NRCC to back up their claim with any facts, but the ad seems to be more about the medium than the message anyway. As the group announced on The National Review, "This is the first time a political organization has launched an actual ad on Vine to attack an opponent. Vine ads can easily be shared and are a new frontier of political media."
Take a look at the ad below, and behold the future of campaign advertising:
(h/t The Atlantic Wire)
—
>> Follow Matt Wilstein (@TheMattWilstein) on Twitter
Have a tip we should know? tips@mediaite.com