It Was A Joke! Lars von Trier Untangles His Controversial Cannes Nazi Comments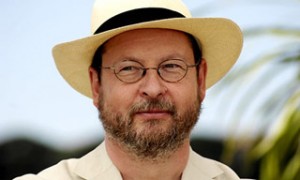 When Danish director Lars von Trier told press that he was a Nazi while promoting his movie Melancholia at Cannes this year, everybody pretty much assumed that it was the most wrong thing he could have said, a wincing Kirsten Dunst next to him and later the Cannes board of directors most of all. "I really wanted to be a Jew, and then I found out that I was really a Nazi," he had said, expressing a certain interest in his heritage. "What can I say? I understand Hitler." Not exactly anti-Semitic, but certainly poor in his word choice, con Trier was booted from the festival. Melancholia has since been well received in Europe and is soon to be released State-side, comments withstanding because von Trier isn't planning on taking any of it back. That's not to say he's not embarrassed, though.
Speaking with GQ's Chris Heath, he tried to entangle what he insists was meant to be a joke. According to Heath, von Trier physically recoils while watching footage of the press conference for the first time on an iPad. "This is why I shouldn't do interviews—I should just shut up and I should do my films. This was terrible to listen to," he tells Heath when they finally get to the end. He feels, though, that criticizing him for his comments is like yelling at a child who has fallen off his bike — "you can't continuously yell at him because he hurt himself" — and he's been left shaken. "I got extremely paranoid, because suddenly I could see that this could actually stop my career completely. Which is of course something I don't want," he admits.
So had he known, he might have done things differently, but he is unwilling — or, perhaps, unable — to apologize:
"To say I'm sorry for what I said is to say I'm sorry for what kind of a person I am, I'm sorry for my morals, and that would destroy me as a person. It's not true. I'm not sorry. I am not sorry for what I said. I'm sorry that it didn't come out more clearly. I'm not sorry that I made a joke, but I'm sorry that I didn't make it clear that it was a joke. But I can't be sorry for what I said—it's against my nature."
And so, for better or worse, for embarrassment and honesty, the Nazi comments stand. For von Trier, they must. "I'm an idealist to some point, so if you have to try to be honest then you have to be completely honest," he explains, "and then you have to take every gun in the world and aim them at yourself."
Have a tip we should know? tips@mediaite.com