Feldman: 'It's Come to This: The White House is Just Trolling the Press Corps Now'
The White House press corps is fed up with stonewalling from the Obama administration, and they have finally taken a stand against the biggest transparency issue of them all: taking photos of the president. Yes, this week journalists finally revolted, voicing outrage that news photographers aren't granted the same kind of access the White House photographer is. And Friday's official White House "photo of the day" is triggering complaints that the highest office in the land is just trolling now.
Just a day after journalists were complaining about of photo access to the president, this is what the White House selected as its photo of the day.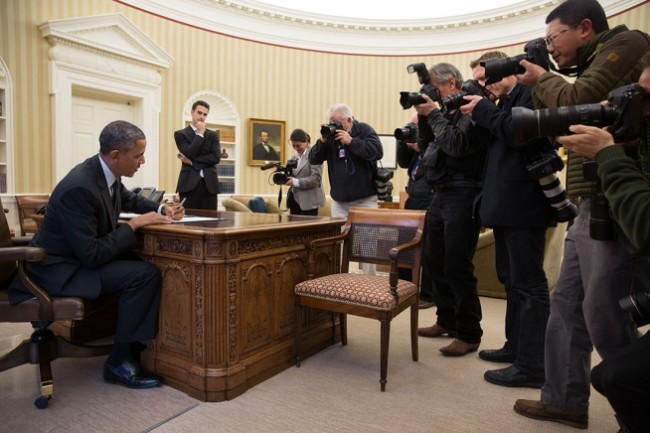 I know, I know, it's subtle, but if you read between the lines, the message appears to be "You want your access? I got your access right here!"
A number of journalists, needless to saw, weren't happy with the giant "screw you."
"I think given the fact that this picture of them taking pictures was now pushed out, I almost wonder if this wasn't just a set up?" said Mickey Osterreicher, general counsel for the National Press Photographers Association, who worked on a draft of the letter. "See, we give everybody access, what's the problem?" he said the White House was trying to say.

Julie Mason, SiriusXM POTUS press pool host and former White House Correspondents' Association board member, saw Friday's photo and suggested it was an equivalent to a middle finger, a snub and an eye roll. "All of that, plus a drop of anxiety," Mason wrote in an email. "Behold how sensitive the White House is to claims they shut the press out."
Yes, because, clearly, this is the transparency war journalists should be waging.
[h/t US News & World Report]
— —
Follow Josh Feldman on Twitter: @feldmaniac
Have a tip we should know? tips@mediaite.com
Josh Feldman - Senior Editor