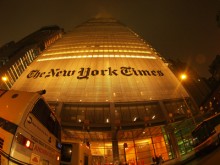 It has finally happened. After twelve months (or more) of rumors and speculation the New York Times has announced that it will start charging for content in 2011. Here's the money quote from the press release:
The new approach, referred to as the metered model, will offer users free access to a set number of articles per month and then charge users once they exceed that number. This will enable NYTimes.com to create a second revenue stream and preserve its robust advertising business. It will also provide the necessary flexibility to keep an appropriate ratio between free and paid content and stay connected to a search-driven Web.
Also worth noting is that the Times says will spend the next year creating and building their own "new online infrastructure," which is good news in the sense that the NYT.com has continually been a leader in what a news organization should look like online. Hopefully they will apply the same ingenuity to whatever pay model they create. That said, the metered system is viewed by many as a way of 'punishing' the most loyal readers; people who use the site most have to pay the most, which in most other industries would make perfect sense, but in this one may prove a challenge.
Meanwhile, before everyone gets too riled up, according to Times media reporter Richard Perez-Pena the details are still super foggy:
But executives of The New York Times Company said they could not yet answer fundamental questions about the plan, like how much it would cost or what the limit would be on free reading. They stressed that the amount of free access could change with time, in response to economic conditions and reader demand.
In a memo to staff 'Arthur and Janet' [Sulzberger and Robinson] explain why the change now:
We are doing so because we believe that a second revenue stream will be an important part of our future…Fundamentally, this is an important step in our effort to support The New York Times's high-quality, professional journalism….We also selected the metered model because it offers a number of important virtues from a financial and growth perspective. It allows NYTimes.com to remain a vibrant part of the search-driven Web, which has proven to be an integral reason for why we have become an industry leader in display advertising.
Also, rest assured print subscribers, according to the same memo you will not have to pay an additional fee for online access.
Full press release after the jump. Full memo at Romenesko.
Have a tip we should know? tips@mediaite.com