It's True: Rick Sanchez Returning To The Airwaves As A College Football Announcer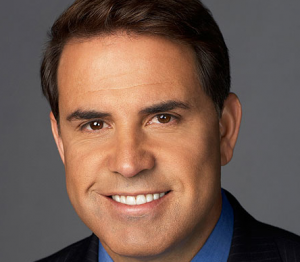 No matter what, you can bet Twitter will be involved. According to the Miami Herald, ex-CNN anchor Rick Sanchez will be back this fall–on the radio in South Florida–calling football games for the FIU Golden Panthers. "Huge name move for FIU," write David Neal and Justin Azpiazu, wondering if the at times well over the top style of Sanchez might "inject…games with the almost campily dramatic seriousness he did to shoot 'em up Miami of the late 1980s-early 1990s" when Sanchez was an anchor at Miami's WSVN.
Sanchez says he's taking the gig to "give something back" to a school he's close to:
I'm extremely excited to be volunteering my time to Florida International. I'm not getting paid to do this—I just wanted to give something back to the school because FIU has a very special place in my heart: two of my sons now attend FIU and I believe in FIU football.

When Pete Garcia, FIU's athletic director, asked me if I'd consider calling the games, I immediately said yes. I already attend most of the games, and so it was an easy decision.

I think this will be a lot of fun, and it will give me a chance to visit my sons and my parents more often.

Go FIU!
Sanchez, who's recently written for Mediaite, has spent his time since leaving CNN working tirelessly to clear his name, left tarnished by the comments he made last fall–calling Jon Stewart a bigot, among other things–that forced him from his high-profile network anchor gig.
FIU's no stranger to Sanchez. In 2009, the anchor hosted his afternoon show live from FIU as part of CNN's Latino in America project. And back in June, Sanchez served as master of ceremonies for the FIU Athletics Golf Tournament held at the Doral Golf Resort.
Have a tip we should know? tips@mediaite.com