Jared Kushner's Reported Stance on U.S. Allies: 'I'm a Businessman…I Don't Care About the Past'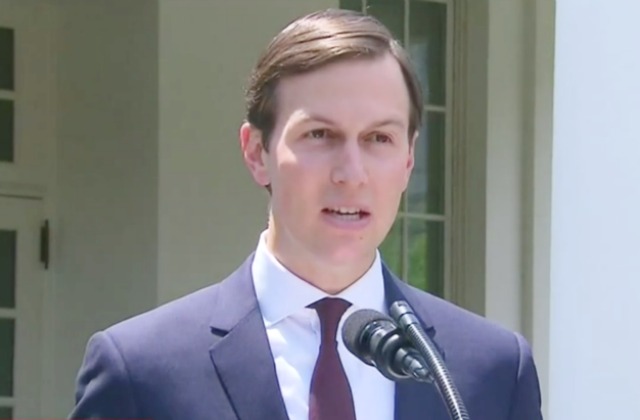 Jared Kushner reportedly has a very casual stance about the relationships between the United States and its allies. And that view is spooking at least one European official, and various others on Twitter.
In a Politico deep dive authored by Susan Glasser, an unnamed person identified only as a European official relayed a conversation with the president's son-in-law. That official voiced strong concerns about Kushner upsetting the apple cart as it pertains to the bonds between the U.S. and its friends.
From the article:
Kushner was "very dismissive" about the role of international institutions and alliances and uninterested in the European's recounting of how closely the United States had stood together with Western Europe since World War II. "He told me, 'I'm a businessman, and I don't care about the past. Old allies can be enemies, or enemies can be friends.' So, the past doesn't count," the official recalled.
The unidentified European official was troubled by that comment.
"I was taken aback," the anonymous official told Politico. "It was frightening."
Some on Twitter were equally disturbed:
Kushner reportedly telling foreign officials he doesn't care about old alliances because he's "a businessman" isn't much of a euphemism for corruption https://t.co/A0gzEvbrgq pic.twitter.com/udlQUX3GQf

— Matt O'Brien (@ObsoleteDogma) January 2, 2018
This is the fundamental problem with this family/administration, they are all willing and indeed eager to eviscerate the nations health, prosperity and security to increase their personal bottom line.

— Tom Corn (@MrTomCorn) January 2, 2018
I think it's a total admission of corruption

— MaggyResistant (@Maggyw519) January 2, 2018
The same European official told Politico of a conversation with Steve Bannon in which the former White House chief strategist was "very dismissive" of the threat posed by Russia and president Vladimir Putin.
"'They're economically weak. You should not care about Russia, you should care about China.' [the European official] said, 'Maybe in 30 years you are right, but in 30 years Russia can do a lot of nonsense.'"
[image via screengrab]
——
Follow Joe DePaolo (@joe_depaolo) on Twitter
Have a tip we should know? tips@mediaite.com
Joe DePaolo - Senior Editor