Jason Alexander (George From Seinfeld) Tweets For Obama, Trashes Arizona and Texas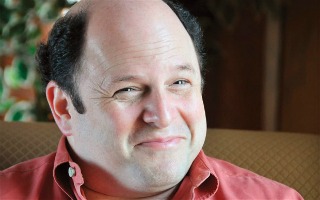 Actor Jason Alexander, famous for his portrayal of George Costanza on the sitcom Seinfeld, is an outspoken Democrat and a supporter of President Barack Obama. He regularly pens supportive opinion pieces and sends links out to his followers in support of the President and Democratic causes. On Wednesday, he decided to tweet-mock those who disagree with his support for liberal causes.

RELATED: Seinfeld's Jason Alexander Slams Mitt Romney For 'George Constanza' Reference During Debate
Here, Alexander tweets a harmless link asking his supporters to help stop "voter suppression" in Pennsylvania. That is standard fare from Alexander and is not especially note-worthy.

However, in a prior tweet from the same day, he tweeted out an attack on his conservative "haters" who, in his estimation, reside in either Texas or Arizona and cannot spell.

Now, I live in a glass house in terms of typos and will not be critical of either my orthographically-challenged brethren from the Sun Belt or Mr. Alexander. But, as all twitter aficionados know, attacking your critic's number of followers is the last refuge of scoundrels.
If there is merit to their arguments, address and refute them. If their argument is baseless, as Chris Matthews would say Robert Kennedy would say, hang a lantern on it. I know as well as anyone, the temptation to mock your more irrational twitter agitators – particularly those who type our their 140 character missives at you in the midst of a frothy, passionate, all-consuming hatred of you – is an urge that is hard to deny.
But all that having been said, it is hard to be mad at Mr. Alexander for any political position he may take. He could probably advocate for the forcible sterilization of every third infant and I would still find him adorable and talented.
For some, including this author, it is forever and always the summer of George.
> >Follow Noah Rothman (@Noah_C_Rothman) on Twitter
Have a tip we should know? tips@mediaite.com