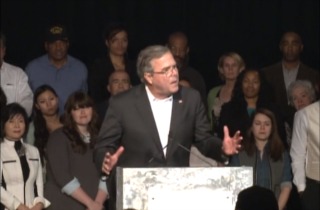 Although they are not officially declared 2016 presidential contenders, former Florida Gov. Jeb Bush and former Secretary of State Hillary Clinton are widely considered to be building up campaign operations for the next presidential election. Bush and Clinton have been campaigning on behalf of Republican and Democratic candidates, respectively, ahead of next week's midterm elections.
Speaking in Colorado on Wednesday, Bush took a jab at Clinton for her remarks last week — which she later backpedaled — in which she said "don't let anybody tell you that it's corporations and businesses that create jobs." Without mentioning her name, Bush criticized Clinton's "breathtaking" comments. He also called her a "candidate," even though she has yet to declare herself.
"A candidate, a former Secretary of State, who was campaigning in Massachusetts where she said that 'don't let them tell you that businesses create jobs,'" Bush said, eliciting boos from the audience.
Bush continued:
"Well, the problem in America today is that not enough jobs are being created. They are created by businesses where people's income rise where they can live a life of purpose and meaning independent of government. That should be the mission. And the only way that we do that is to create a climate of high sustained economic growth where everybody, everybody in this country has a chance at earned success."
Watch the video below, via CNN:
[Image via screengrab]
— —
>>Follow Andrew Desiderio (@forza_desiderio) on Twitter
[Note: Mediaite intern Andrew Desiderio is a student at The George Washington University.]
Have a tip we should know? tips@mediaite.com