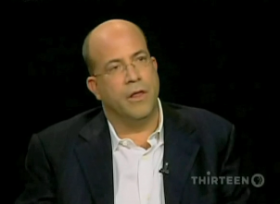 Jeff Zucker was on Charlie Rose last night, somewhere between Jay Leno and Conan O'Brien on the clock — though clearly not between them in allegiance. Lest anyone think that an 11th hour reprieve for Conan is possible — dressing in orange for rallies can only do so much — It seems clear that Zucker has moved on.
Case in point: "We think that Jay will go back to 11:35 and be successful."
Broadcasting & Cable's Marisa Guthrie reported that quote last night after the broadcast, as well as Zucker's regret that Conan wouldn't stay in the 12:05 a.m. slot.
He also said that he would have preferred that O'Brien stay at NBC — and, importantly, said he had "no regrets" about the decision that was made in 2004:
That kept our late night franchise of Jay and Conan intact for five and a half additional years — it kept Conan from leaving for a competitor at that point…so I think, actually, that was the right decision at that time and I have no regrets.
Like him or not, which right now has been mostly "not" — Zucker told Charlie that he had received "death threats" which is a little extreme no matter how much you like the masturbating bear — Zucker has a point: He kept NBC's late-night setup in place for an extra five years.* They were an important five years, seeing as they were the last five years of, essentially, TV as we know it. In Jay Leno's last five years, everything was still in place, from the lead-in dramas to the same familiar competitors. Yes, things were slowly changing, but when Jay handed off to Conan it might as well have been handing off to a new era. Who knows what would have happened had Conan left in 2004 — as we have seen, when you destabilize the lineup, anything can happen. The point is, Zucker kept his moneymaking machine intact until the very last second. Why should he have regrets about that?


Zucker's strategy seemed to be, "delay losing one of them for as long as possible" — and mostly seems to have been driven by who was most likely to leave when: "We made a commitment at the time to put Conan in to the slot, we wanted to honor that commitment but at the same time we didn't want to lose Jay – that's one of the reasons we looked at putting Jay on at ten o'clock." Charlie Rose got Zucker to admit that 'the 10p.m. experiment' was a mistake, but even then Zucker seemed reluctant to concede any fault: "Obviously in hindsight, perfect information leads you to that conclusion, that it was a mistake. And I think it's the sign of a leader to step up and have the guts to reverse it. The worst thing to do is to let that mistake…linger. We tried to correct something that didn't work."
This is an important statement, because Charlie specifies that there were two things that didn't work, the Jay Leno Show and the The Tonight Show — but really, the supposed trigger for this whole kerfuffle — the revolt of the affiliates — was just about Jay Leno. The Tonight Show wasn't working in relation to where Leno left off, but it was working in relation to where Leno had been at the same point in his tenure. To "work," though, the Conan's Tonight Show was never supposed to have been Leno-dependent — but in Zucker's conception, it sounds like Leno and Conan have always been a package deal. And it sounds like the only way Zucker imagined fixing Conan's problems was by adding Jay Leno, not subtracting him.
What does linger here, though, is the branding of Conan's Tonight Show as a failure, and Leno's show as an experiment that didn't pan out, but worth it, ultimately, to keep Jay Leno at NBC — whatever the cost. Stripping out the emotion here, and the questions of fairness and decency, he may actually be right — that of all the possible outcomes for NBC, between losing Leno and losing Conan, pushing it 'til the very end and then picking Jay may end up being the one that worked best for the bottom line, looking back five years and looking forward who knows how many. It is, of course, hard to know — and in the reports I've seen I've not heard Zucker talk at all about the Internet, or how an old Jay Leno Tonight Show might fare in a new media world, especially after this bruising. But maybe that's the point — in a world where nothing is reliable, sticking with the one thing you know might be the safest bet.
Related:
Jeff Zucker: I've Received Death Threats [NYMag]
Jeff Zucker Addresses Late-Night Controversy on 'Charlie Rose' [B&C]
Jeff Zucker makes NBC TV execs look like Shakespearean cannibals [True/Slant]
Via Vulture at NYMag.
*I'm not giving him credit for the last half year. Like, come on.
Have a tip we should know? tips@mediaite.com