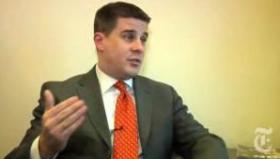 The New York Times conducted a video interview with new White House Communications Director Dan Pfeiffer, and he didn't waste time in reigniting the White House vs. Fox News storyline that seemed to die down at the end of last year.
Now Fox News, and Greta Van Susteren specifically, are responding. Update: So is Glenn Beck.
Pfeiffer took over for Anita Dunn, who started the war of words with FNC and became a favorite target for Glenn Beck and others at the network. TVNewser highlights some of Pfeiffer's key comments to the NYT yesterday.
I have the same view of Fox that Anita had, which is that Fox is not a traditional news organization. They have a point of view. That point of view pervades the entire network both the opinion shows, like Glenn Beck and Bill O'Reilly, but also through the newscasts during the day.
This is exactly how you piss Fox News off. They can handle the White House shots at their opinion shows – mainly because those shows respond directly – but the knocks at the daytime newscasts take it to another level.
"We don't feel an obligation to treat them like we treat a CNN or an ABC or an NBC," said Pfeiffer. Continuing: "We will correct the record, whether its an analyst on Fox, whether it's a member of Congress, whether it's a reporter or pundit."
FNC responded to TVNewser: "Obviously new to his position, Dan seems to be intent upon repeating the mistakes of his predecessor…and we all remember how well that turned out."
For those who don't, this should give a good backstory. Ultimatley, Pres. Obama conducted an interview with FNC's Major Garrett and the incessant attacks (which saw just as many return-fire attacks from Fox) died down quite a bit. Does this new tone and tactic open up the feud once again? Wait until Glenn Beck has his say at 5pmET tonight – he's already name-checked Pfeiffer this year, but it is likely just an appetizer.
Van Susteren took Pfeiffer's comments and turned them into an indictment of her show, On The Record. She challenged the White House to come on and respond in a blog post today:
If they are certain about their swipe (which includes ON THE RECORD at 10pm since they say all of Fox) – they should have the courage and strength to prove it. I am responsible for 10pm so I am eager to talk to them about our work at 10pm – an hour included in their swipe.
> Update: Here's a brief response from Beck on the radio today. There's likely more coming on TV.
—–
» Follow Steve Krakauer on Twitter
Have a tip we should know? tips@mediaite.com