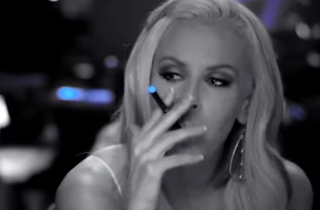 It's been a bad week for pseudoscientific celebrity shills, especially when it comes to the Senate: first, Dr. Mehmet Oz faced intense grilling for his support of "miracle" diet pills, and a few days ago, Jenny McCarthy got the same treatment by the Senate for her support and advertising of e-cigarettes.
While she herself wasn't present in Congress, McCarthy repeatedly came up in a hearing held by the Committee on Commerce, Science and Transportation, specifically because she was using her sexxxx appeal to advertise Blu e-Cigs, whose CEO was called to testify. According to POLITICO, the hearing focused on the upcoming prohibition of selling e-cigarettes to minors, and focused specifically on whether Jenny McCarthy ads would constitute advertising towards minors. (Insert vaccine joke here.)
Generally, though, the Senate was not very pleased:
Sen. Richard Blumenthal on Wednesday held up an image of the former Playboy model smiling, holding an e-cigarette gently in her hand and blowing a plume of vapor as an example of Big Tobacco's return to using sex, celebrity and glamour to get teens to try nicotine.

"You don't see any confusion between smoking and vaping in this ad or any other ads?" Blumenthal (D-Conn.) asked the president of the company that makes the products.
Curiously, the ads featuring McCarthy were pulled off of Blu's website the next day, and a spokesman claimed that it was simply due to the contract between her and the company expiring in August. (They do have a #TurnDownForWhat hashtag promo thing going on, though, so they're clearly relevant.)
However, the Internet remembers that her ads exist:
The internet always remembers.
[POLITICO]
[Image via screenshot]
—
>> Follow Tina Nguyen (@Tina_Nguyen) on Twitter
Have a tip we should know? [email protected]