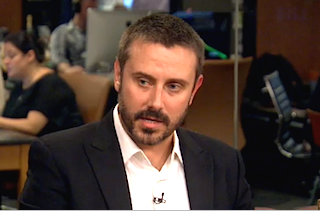 According to The Intercept's Jeremy Scahill, "We've hit all time lows with media coverage in this country." The journalist appeared on HuffPost Live Wednesday to discuss media coverage of the conflict between Israel and Hamas and issued some sharp criticism to U.S. press outlets that he says are producing nearly one-sided coverage.
"When you look at what's happening right now in Gaza, this is a massive massacre and one epic series of war crime after war crime, child after child being killed," Scahill told host Alyona Minkovski. "And most news organizations are forced to acknowledge that the Palestinians and its children and whole families are being killed. They're forced to because cameras are there; they're forced to because there are reporters on the ground reporting on that."
But, he added, "if you step back and you look at the way that this is always framed over these weeks of Israel's constant bombardment of Gaza, it's as though Hamas and Israel are sort of two equal military powers fighting one another." Considering Israel has its Iron Dome missile-defense system in place to protect its citizens, Scahill said this was a fundamentally incorrect assumption.
Scahill described Israel as "a nuclear-powered nation that has a history of systematically killing Palestinians, indiscriminately targeting civilians and civilian institutions." But if you listen to American media, he said you would think that it is just a "battle between two military powers." He added, "Israel is gratuitous in its disproportionate use of force against the Palestinians."
The reporter singled out the "great" NBC News correspondent Ayman Mohyeldin as one of the few examples of someone who has shed light on the disproportionality. But when he did, he was quickly removed by the network from Gaza (he has since been reinstated there).
"Benjamin Netanyahu and the Israeli propagandists are largely given carte blanche to say what they want on American television with very little push back," Scahill said.
Watch video below, via HuffPost Live:
[Photo via screengrab]
— —
>> Follow Matt Wilstein (@TheMattWilstein) on Twitter
Have a tip we should know? tips@mediaite.com