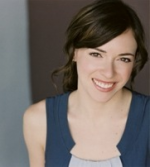 Jessica Jackley has a gift for making people want to fork over their cash. To total strangers. Far, far away. Does she run a shady Ponzi scheme? Is she a Nigerian Prince? Far from it – as the co-founder of kiva.org, the ground-breaking micro-finance non-profit which pairs willing online small-sum lenders with entrepreneurs starting small businesses around the world. And while Kiva is active in Nigeria, it's not only aboveboard, but wildly successful: The org has enabled almost $140 million of loans from people across 196 countries. Not only that, it's created a culture of lending: The average number of loans per Kiva lender is 5.64. People want to help.
Jackley knows this, has seen it in action, and has decided to take it to the next level with her new venture: ProFounder, which will allow a new breed of Internet 'angels' to invest online in start-ups raising seed capital. Jackley and her co-founder, Dana Mauriello, are using a model that shares debt and revenue, so investors can expect to see a return on their investment. And it's not small change, either; ProFounder works for capital raises up to $1,000,000.
Simple, proven, genius. If you don't believe me, believe the folks that have Bill Clinton on speed dial: ProFounder won $50,000 last week at DC's Summit Series conference, during its first venture competition. Each start-up gave its pitch; the winner was determined by the audience. ProFounder's crowdsourcing solution for firing up new businesses took the prize — and when it officially launches in the fall, it will no doubt change the game not only for many entrepreneurs, but for the industry as we know it.
She's also personally one of the most delightful people ever, up for an interpretive dance session in a stairwell or pairing Old Navy beer cozies with a fine champagne. She makes work meaningful, and ridiculously fun. Here she is.
What do you love about your work?
Through Kiva and now ProFounder, I get the opportunity to spend time getting to know truly amazing entrepreneurs – many of whom have started or grown their businesses with very few resources. They're incredibly inspiring!
What do you find the most stimulating – and the most challenging – about the non-profit world?
While I believe there are lots of other types of organizations (for-profit, nonprofit, government entities, etc. etc.) doing good things in the world — the nonprofit sector doesn't have the corner market on making positive change! — I have found countless, very passionate individuals who are drawn to this sector because they are driven above all else to do something meaningful with their days. I love being around this energy and focus.
The funding environments/communities surrounding many nonprofits, however, can perpetuate a culture that doesn't support great nonprofit organizations from taking risks, or trying out creative new ways to tackle longstanding social problems. There are few funding sources willing to accept the possibility of failure as a result of attempted innovation. A lot of donors want to make sure their particular donation goes to something guaranteed to make a nice, predictable impact. Ironically, I think this sector really has some of the greatest opportunities to innovate and discover new solutions to problems because of their expertise, the passion of their employees, the unique proximity many of them have to people that other entities ignore, etc.
What do you consider "work"? Grinding out a business plan? Giving keynotes? Taking business meetings with funders? Flying off to Africa?
I think "work" is anything I'm doing with intention and purpose. There is absolutely no negative connotation to the word "work" for me – I feel lucky that I get to wake up every day and spend my days doing things I believe in. You mentioned a few activities (have you been reading my calendar??). So, if one day I'm grinding out a business plan, it's not just about that business plan, it means I'm thinking about strategies to build tools and products that will help other people thrive; if it's giving a keynote, I'm connecting with individuals and hopefully inspiring and encouraging them to follow their dreams; if it's meeting with funders, I'm giving them ways to participate in entrepreneurs' lives or businesses they believe in; if it's flying off to Africa, for any reason, I know I can be an ambassador for ideas and ways of interacting with each other that can change the world every day.
Who are your mentors?
There are so many people who help me make good choices and stay sane. There are the usual suspects (parents, brother, boyfriend, friends) but also people who have stepped up to help me professionally, whether in an official advisory or board role, or in other ways. Chris Larsen (Prosper.com), Cory Ondrejka (Linden Lab), Reid Hoffman (LinkedIn), Jennifer Aaker (Stanford GSB) – and many others – have been incredibly available during the last few months in particular around ProFounder's launch.
Person you admire professionally from afar:
If there's someone I really admire and want to learn from, I go find a way to meet them!!
Blackberries: Imprisoning or freeing?
First, it's an iPhone. ;) And seriously, anyone who lets a phone "imprison" them, or for that matter, depends on a phone for freedom, has problems way beyond the phone. C'mon guys. Guns don't kill people, people kill people.

If you have work drinks, does the other person always pick it up? Sweet.
HA! I wish. No, actually, this doesn't always happen – I actually like to treat, and usually try to sneak it in at the beginning of the evening before anyone can argue, so there's no big fuss at the end. But you, Rachel Sklar, can definitely pick up the tab next time. (Also, I think the world should know that you carry your own beer cozy with you at all times.)

Ha. What makes work more meaningful than raising a cozy of champagne to a fabulous entrepreneur? Cheers.
***Raise a glass to Jackley via Kiva.org if you are so inclined: Lend here.
Original Post:
Jessica Jackley: You'll Give Her Your Money and You'll Like It
Read more: http://mwm.rypple.com/2010/05/21/jessica-jackley-youll-give-her-your-money-and-youll-like-it/#ixzz13UdpR9Za [Rypple]
Further Reading:
Kiva Co-Founder's New Startup Wins $50,000 [Change.org]
ProFounder Facebook Page [Facebook]
Jessica's Kiva Lending Page [Kiva.org]
This post was reprinted with permission from Rypple.com and its "I ♥ Work" series.
Photo of Jessica and Bill Clinton shamelessly pilfered from her Facebook page.
Have a tip we should know? [email protected]