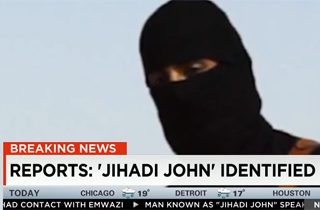 The name of "Jihadi John," the masked, English-speaking man seen in ISIS's execution videos, has been identified as a Kuwaiti-born British man with a computer programming degree and well-to-do parents.
The Washington Post reports Mohammed Emwazi, a "polite" man in his mid-twenties with "a penchant for wearing stylish clothes while adhering to the tenets of his Islamic faith."
"I have no doubt that Mohammed is Jihadi John," one of Emwazi's close friends told The Washington Post. "He was like a brother to me. . . . I am sure it is him." (Both British and American authorities declined to comment.)
Emwazi's radicalization process began in 2009, shortly after he graduated from the University of Westminster and went on a Tanzanian safari trip, paid for by his parents as a gift:
Emwazi and two friends — a German convert to Islam named Omar and another man, Abu Talib — never made it on the trip. Once they landed in Dar es Salaam, in May 2009, they were detained by police and held overnight. It's unclear whether the reason for the detention was made clear to the three, but they were eventually deported.

Emwazi flew to Amsterdam, where he claimed that an officer from MI5, Britain's domestic security agency, accused him of trying to reach Somalia, where the militant group al-Shabab operates in the southern part of the country, according to e-mails that he sent to Qureshi and that were provided to The Post.

Emwazi denied the accusation and claimed that MI5 representatives had tried to recruit him. But a former hostage said Jihadi John was obsessed with Somalia and made his captives watch videos about al-Shabab, which is allied with al-Qaeda.
According to his associates, Emwazi soon got a job as a programmer in Kuwait, and would frequently fly back to London to plan a wedding to a Kuwaiti woman. During one of those flights, however, he was detained by British counterterrorism agents and prevented from returning to Kuwait:
"I had a job waiting for me and marriage to get started," he wrote in a June 2010 e-mail to Qureshi. But now "I feel like a prisoner, only not in a cage, in London. A person imprisoned & controlled by security service men, stopping me from living my new life in my birthplace & country, Kuwait."

Nearly four months later, when a court in New York sentenced Aafia Siddiqui, an al-Qaeda operative convicted for the attempted murder of U.S. personnel in Afghanistan, Emwazi expressed sympathy for her, saying he had "heard the upsetting news regarding our sister. . . . This should only keep us firmer towards fighting for freedom and justice!!!"
"This is a young man who was ready to exhaust every single kind of avenue within the machinery of the state to bring a change for his personal situation," Asim Qureshi, research director at a human rights group in contact with Emwazi, told the Post. In the end, he felt "actions were taken to criminalize him and he had no way to do something against these actions."
[The Washington Post]
[Image via screenshot]
— —
>> Follow Tina Nguyen (@Tina_Nguyen) on Twitter
Have a tip we should know? tips@mediaite.com