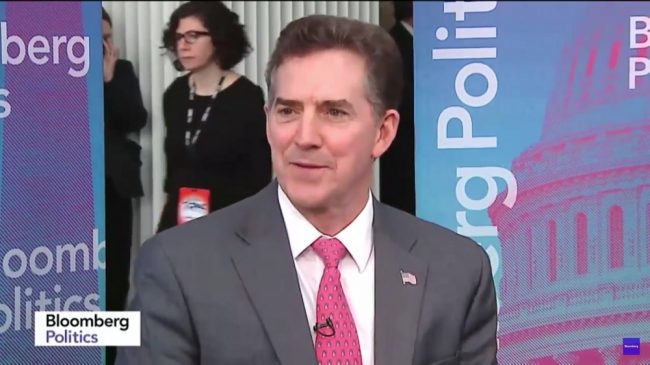 Jim DeMint resigned from his post as president of the conservative Heritage Foundation in the wake of a unanimous vote of its board of trustees on Tuesday.
The organization (where this writer worked from 2003 to 2006) released a statement on Tuesday explaining the resignation. The board also elected Heritage co-founder Ed Feulner to be "president and CEO while we conduct a thorough search for his successor."
Thomas A. Saunders, III, the chairman of the board, explained in the statement that the body "determined there were significant and worsening management issues that led to a breakdown of internal communications and cooperation. While the organization has seen many successes, Jim DeMint and a handful of his closest advisers failed to resolve these problems."
On Friday, Politico reported that the former South Carolina senator was possibly on his way out from Heritage. The publication spotlighted that "some Heritage board members believe that DeMint has brought in too many Senate allies and made the think tank too bombastic and political — to the detriment of its research and scholarly aims."
Some of these "Senate allies" intervened Monday by sending a letter to the Heritage board of trustees. The New York Post detailed the congressional outreach in a Monday article.
Senator Mike Lee posted images of the letter and the signatures in a Monday Tweet.
I am honored to be joined by 47 congressional colleagues on this letter to a conservative hero, Senator @JimDeMint. pic.twitter.com/CwpYDr3TnS

— Mike Lee (@MikeLeeforUtah) May 2, 2017
This last-ditch effort apparently didn't help DeMint, as the board made the "difficult and necessary decision" to ask for his resignation.
Saunders later underlined that the move will "make Heritage stronger in the short term and the long run," and that the organization will continue "fighting for conservative ideas."
Back in March 2017, The Washington Post pointed out that President Trump's budget plan "bears a striking resemblance to the Heritage Foundation's 'Blueprint for Balance: A Federal Budget for 2017.'" Feulner himself also served on the President's transition team — a detail that their statement on Tuesday disclosed.
[image via screengrab]
Have a tip we should know? tips@mediaite.com