John King Continues 50-State Theme By Teaming With Social Networking Site Gowalla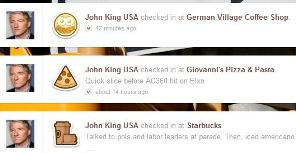 CNN's John King has taken John King, USA back on the road, the trademark of his show.
But in addition to reporting from some key states as November looms, he's added a social networking element – teaming with Gowalla to keep viewers informed of his every movement.
Here's some of the CNN release:
CNN chief national correspondent and anchor John King has a passion for getting outside the Beltway to check the political pulse of everyday Americans, and now users of Gowalla, the location-based mobile and web service, can follow the trail he has blazed through the country. Beginning next week with John's Labor Day road trip, Gowalla users will be able to learn about John's favorite spots in all 50 states and even earn a John King, USA Pin for their Gowalla Passport by completing one of the Trips.

"Washington is never a leading indicator in election cycles," said John. "You have to get out in the country and see it and taste it to get a sense of the real issues driving how Americans vote."
Gowalla is similar to Foursquare, and through the site, we can see King's stops along the way and he can interact with other users. So before his stop at Giovanni's Pizza & Pasta yesterday, he messaged with a user who wanted to know about the feeling on the ground regarding the Pennsylvania Senate seat. King has been a big fan of Twitter (he's also a big fan of diners), and his Twitter account is synced with Gowalla as well. Through that, we learn he recently earned the "Wanderer Pin."
King's Nielsen ratings continue to suffer, and there will likely be very little connection between this partnership and increased ratings. But it does help King in an area that never shows up in the numbers – a growing social media presence.
It is an important, and forward-thinking metric. But in this bottom line world of cable news, will that be enough if we get through the midterm elections and the show's ratings haven't improved?
—–
» Follow Steve Krakauer on Twitter
Have a tip we should know? tips@mediaite.com