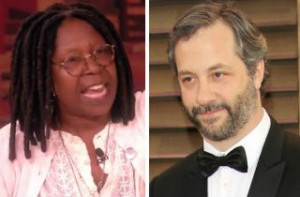 Ever since the many rape allegations against Bill Cosby were launched into the public's consciousness last year by comedian Hannibal Buress, two things have been constant. Judd Apatow has always spoken out against the embattled elder comedian while voicing his support for the victims, whereas The View co-host Whoopi Goldberg has denied the accusations — even in the face of evidence.
On Wednesday, Goldberg stuck to her guns and told her detractors to "back off me!" Yet it seems Apatow just couldn't resist the invitation to take Whoopi head-on. That's why he repeatedly called her out on Twitter Thursday night:
I think @WhoopiGoldberg is trying to be a loyal friend. It is sad that Bill Cosby is so sick that he puts his friends in that position.

— Judd Apatow (@JuddApatow) July 10, 2015
but @WhoopiGoldberg – he admitted to giving this to women to get them to have sex. So what are you defending? pic.twitter.com/8jDBXXHwww

— Judd Apatow (@JuddApatow) July 10, 2015
Remember – @WhoopiGoldberg he paid off women to avoid the courts. So you can't say the courts didn't convict. He used wealth to avoid it.

— Judd Apatow (@JuddApatow) July 10, 2015
It is sad that he betrayed his community & it has soiled his achievements. But he did it. Not the press. 7 prescriptions. @WhoopiGoldberg

— Judd Apatow (@JuddApatow) July 10, 2015
Whenever the comments were civil, Apatow engaged with his followers — often to illustrate his own points or to highlight their own:
.@schizorabbit1 @WhoopiGoldberg I believe it is wise to be careful but at some point we need to support the survivors of his violence.

— Judd Apatow (@JuddApatow) July 10, 2015
@JuddApatow @WhoopiGoldberg The court system determines who should be criminally punished, not the Truth or what is reasonable to believe.

— Ruben Bolling (@RubenBolling) July 10, 2015
What's the over-under on Goldberg addressing Apatow's tweets on Friday's episode of The View? Considering the celebrity his own name brings, as well as all the attention his tweets are getting, changes are good.
[h/t Entertainment Weekly]
[Image via screengrab/Shutterstock.com]
— —
>> Follow Andrew Husband (@AndrewHusband) on Twitter
Have a tip we should know? tips@mediaite.com