Judge Orders New Trial for Woman Convicted for Disrupting, Laughing at Jeff Sessions Confirmation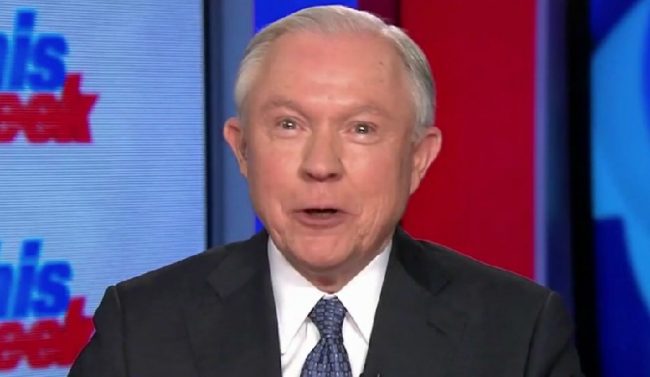 Considering the right is typically the side touting free speech rights, it came as a shocker when a woman who laughed at the claim that then-Sen. Jeff Sessions "treated all Americans equally under the law," was convicted of disorderly and disruptive conduct and demonstrating inside the Capitol, facing probation and potential jail time.
On Friday, a D.C. judge is overturning the conviction on the grounds that the government had improperly argued during the trial that the woman's laughter was enough to merit a guilty verdict, and ordering a new trial for Sept. 1. Upon being convicted, she could have faced 12 months in prison, $2,000 in fines, or both.
Desiree Fairooz, 61 and associated with the group Code Pink, audibly laughed while attending Sessions' January confirmation hearing when Republican Sen. Richard Shelby touted Sessions' civil rights record. (This is your friendly reminder that the Senate rejected Sessions' nomination for a federal judgeship in the 1980s over concerns about his views on race.) Fairooz was taken into custody during the hearing, and later convicted by a jury.
Here is footage of the laugh in question:
Massachusetts Sen. Elizabeth Warren, of course, was similarly silenced by Senate Republicans when she tried to read a letter written by Coretta Scott King, wife of Martin Luther King, Jr., in which Coretta in 1986 accused Sessions of racism and attempts to deny African Americans free speech and voting rights.
Both instances heaped further controversy on the already contentious Sessions hearing, and quickly painted Sessions and his allies as hostile to women's right to free speech.
As Fairooz was being arrested, she called Sessions "evil, pure evil," comments that an attorney for the government used against Fairooz at her trial because "she was voicing an opinion." Additionally, government attorneys have argued that jurors "could reasonably infer that the laugh was a deliberate disruption" and "intentional."
Fairooz has spoken out, telling the Huffington Post the fact she'll have to go to trial again is "absurd," "ridiculous," and a "waste of tax dollars" that she may have to go to trial again.
"For a little giggle in the Sessions hearing, it's outrageous," Fairooz said. "I think they're harassing me, it's awful. Why it got to this point, I don't understand."
At the time of Fairooz's trial, many were quick to decry the more gendered aspects of her arrest and conviction. Comedian Lizz Winstead wrote in a Vox first-person essay, "I'm personally offended by the idea that a bunch of powerful men could lock up a woman who has an appreciation for irony." Of the Trump administration, Winstead added, "They seem to think they can end criticism by punishing it away."
It's entirely likely that had a man burst out into laughed upon hearing praise heaped upon Sessions' dubious civil rights record, he, too, would have been arrested and convicted. But history is paved with no shortage of women being silenced and locked up for expressing political thoughts, which is why Fairooz's arrest and conviction were far too familiar for comfort.
[image via screengrab]
This is an opinion piece. The views expressed in this article are those of just the author.