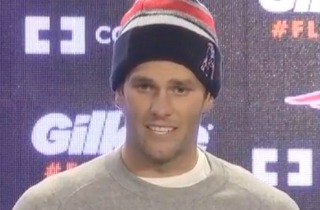 On Thursday, U.S. District Judge Richard Berman overturned New England Patriots quarterback Tom Brady's four-game suspension, which was originally imposed as punishment by the NFL for his alleged participation in the #deflategate scandal.
Despite NFL Commissioner Roger Goodell's rejection of Brady's appeal to overturn the suspension back in July, a move that "disappointed" the quarterback, Judge Berman apparently intervened in the matter.
The Associated Press broke the news on Twitter late Thursday morning:
BREAKING: Tom Brady beats NFL in 'Deflategate' court case, judge nullifies league's 4-game suspension.

— The Associated Press (@AP) September 3, 2015
Whether or not you're a Pats fan, it's probably best that you follow Boston journalist David S. Bernstein's advice in regards to "obnoxious" football fans and social media today:
Those who find Patriots fans insufferably obnoxious should probably leave twitter for a while.

— David S. Bernstein (@dbernstein) September 3, 2015
Good luck out there, Internet.
UPDATE–10:45 a.m. EST: The AP published a more complete article on the matter, detailing Judge Berman's ruling that nullified the NFL's decision to suspend Brady for four games.
Brady "had no notice that his discipline would be the equivalent of the discipline imposed upon a player who used performance enhancing drugs," said the judge.
Berman argued that the suspension was "premised upon several significant legal deficiencies," including the notion that Brady couldn't have possibly known that he might be suspended for four games just for allegedly being aware of any ball deflation practices.
The legal teams for both sides did not respond to the AP's request for comment. Such should prove interesting, however, as Berman's decision comes as "a surprise to some legal experts." Either way, Brady is now free to prepare for the first regular season game on Sept. 10.
UPDATE–3:01 p.m. EST: In an official statement, Goodell said the NFL will appeal Judge Berman's decision to do away with Brady's four-game suspension:
"We are grateful to Judge Berman for hearing this matter, but respectfully disagree with today's decision," Goodell said. "We will appeal today's ruling in order to uphold the collectively bargained responsibility to protect the integrity of the game. The commissioner's responsibility to secure the competitive fairness of our game is a paramount principle, and the league and our 32 clubs will continue to pursue a path to that end. While the legal phase of this process continues, we look forward to focusing on football and the opening of the regular season."
[h/t Associated Press]
[Image via screengrab]
— —
>> Follow Andrew Husband (@AndrewHusband) on Twitter
Have a tip we should know? tips@mediaite.com