Julian Assange Knows FBI Won't Indict Hillary, Will Seek Concessions From Her Administration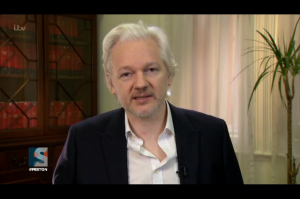 The founder of Wikileaks picked apart the Democratic party presumptive nominee Hillary Clinton in an interview this weekend, saying that more email leaks will be coming.
Sitting for an interview with ITV's Robert Peston on Sunday, Julian Assange said, "We have emails related to Hillary Clinton that are pending publication," he confirmed.
"Unfortunately what's going to happen is that the FBI… could proceed to an indictment," he said. "But Loretta Lynch, head of the DOJ in the United States and appointed by [President] Obama, she's not going to indict Hillary Clinton."Assange also indicated that Lynch, the Attorney General who has served in the role since last Spring, is also overseeing the ongoing Wikileaks investigation.
Assange says he suspects the true motives of the FBI in not moving forward with an indictment of Clinton's private email use. "The FBI can push for concessions from the new Clinton government in exchange for its lack of indictment. But, there's very strong materials both in the emails and the Clinton Foundation," he said.
Peston cornered Assange on the fact that any damaging information about the former Secretary of State only empowers the likelihood that Republican party presumptive nominee Donald Trump might win in the general election. "Trump is a completely unpredictably phenomenon," he replied simply.
Assange's operation has released many damaging documents that have hurt the credibility of the Obama administration and its commitment to transparency. Most notably, in 2010 Wikileaks was responsible for the leak of the Collateral Murder video, which was footage from a Baghdad siege that showed attacks on innocent Iraqis from an American helicopter, in addition to US State department diplomatic cables of highly sensitive information.
"She has pushed for the prosecution of Wikileaks," Assange noted about Clinton. "We do see her as a bit of problem for freedom of the press more generally," he furthered. The Wikileaks founder noted that his group has shown in the past that it was "liberal warhog" Clinton who ignored Pentagon warnings about the instability that overthrowing Muammar Gaddafi would bring to Libya, perhaps opening the door for the type of situation that has arisen with the Islamic State as a direct result.
Watch the clip of the Assange interview over at ITV.
—
J.D. Durkin (@jiveDurkey) is an editorial producer and columnist at Mediaite.
[image via screengrab]
Have a tip we should know? tips@mediaite.com