Jury Dismisses All Discrimination Claims in Ellen Pao Case; Media Spins as Win for Women Anyway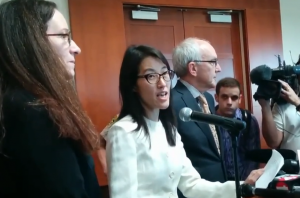 We live in a country that increasingly uses this word: "but…"
"But" is the ultimate signal of a hedging after the first part of a sentence agrees with whatever a debate is about. It's especially huge in the world of polarized media these days, where buts are everywhere and anywhere.
One recent example came following the debacle surrounding Rolling Stone's reporting on the UVA rape case. Sure, the whole exclusive turned out to be a "complete crock," in the words of the Washington Post media columnist Erik Wemple; and, as you may have heard this week, even the Charlottesville Police Department says there's no evidence anything happened (a time stamp photo even shows an empty entrance to the frat house on the night in question). In other words: The story is a work of fiction, and Rolling Stone doesn't need to wait for the Columbia Journalism School and its investigation to tell them that.
But… we're told… at least the story has been successful in triggering a much-needed conversation around an alleged rape culture permeating campuses across the country, right? Does it matter that the foundation, the very impetus of that conversation is built on a false story? It should. But… to those who say the narrative is more important than the facts, it really doesn't matter: The end justifies the means.
Another "but…" making the rounds lately involves Ferguson. Question: Did the final DOJ report state the following as it pertains to media's role?
The media has widely reported that there is witness testimony that Brown said "don't shoot" as he held his hands above his head. In fact, our investigation did not reveal any eyewitness who stated that Brown said "don't shoot."
Yes, it did.
Does that matter? Of course not.
Why? Sure, "hands up, don't shoot" was built on something that never happened (according to the Department of Justice), but it has opened the door to dialogue around the relationship between police and the black community, and what needs to be improved in terms of how law enforcement behaves. Have Ferguson residents — mostly African-Americans — seen their property values drop almost 50 percent since the protests began? Yes.
No matter — at least we're talking. Or something.
So what's a third example of "but" in this context? Glad you asked.
Meet Ellen Pao. She's the resounding loser in a discrimination suit against her Silicon Valley-based employer, venture capital firm Kleiner Perkins Caufield. Before we continue, do I believe Pao should have prevailed? That's another column in another space for another time. Being this is Mediaite, so I'll keep the focus on the media reaction to a jury dismissing all of Pao's discrimination claims in a case almost everyone covering it clearly wanted the plaintiff to win.
Need examples of the cheerleading? Here's one to chew on from The New York Times: "Ellen Pao Disrupts How Silicon Valley Does Business." Complete with a "but" moment inside (emphasis mine):
But while the verdict is a defeat for Ms. Pao, a former junior investing partner at the firm who stood to win potentially tens of millions in damages if she prevailed, the trial has nevertheless accomplished something improbable.

Not only have weeks of testimony revealed a collection of boorish, unsavory and at times unwittingly misogynist attitudes at one of the tech industry's most storied financial institutions the case has also come to stand for something bigger than itself. It has blown open a conversation [ding!] about the status of women in an industry that, for all its talk of transparency and progress, has always been buttoned up about its shortcomings.
Of course, the jury didn't seem to think was as boorish and misogynist as the author of this Times' piece, Farhad Manjoo, believed it was.
Another example, this time from The Los Angeles Times: "Ellen Pao trial highlights gender gap in venture capital." The "but" moment (emphasis again mine):
But despite the firm's victory in Pao's lawsuit, the testimony about it may persuade more women to steer clear of the venture capital fraternity. Here's hoping that the episode will push venture firms and the tech industry to work harder on their diversity problem, the verdict notwithstanding.
Now from NPR: "Assessing The Ellen Pao Verdict." And now the "but" moment:
The general sentiment in the Valley is that the case would have been this landmark case that could have sent deeper reverberations if she had won. But in the end, it still has blown wide open these subtle biases that women deal with all the time in the workplace and more so within the Valley.
And on Mashable: "Ellen Pao trial loss sends shock waves through Silicon Valley." The "but" moment:
But many also thanked Pao for shining a light on these issues and opening the door for other women to do the same. The hashtag #ThankYouEllenPao began to gain traction Friday afternoon.
As you can imagine, it's virtually impossible to find a column that actually supports the jury's decision to dismiss all counts. That Mashable headline is almost correct, but should be modified to read: Ellen Pao trial loss sends shock waves through media establishment that really, really wanted her to win and never imagined a jury would actually dismiss every claim she entered
A bit cumbersome, but more accurate nonetheless.
And so it goes when it comes to a gang-rape that never happened at UVA…or a recklessly false narrative out of Ferguson… or Ellen Pao's multiple claims of discrimination that a jury didn't buy:
Facts mean little. It's the conversation that comes afterward that matters.
Even if that conversation is built on a house of cards.
— —
>> Follow Joe Concha on Twitter @JoeConchaTV
Have a tip we should know? tips@mediaite.com