Justin Timberlake Keeps His Promise; Writes Moving Letter About Attending Marine Ball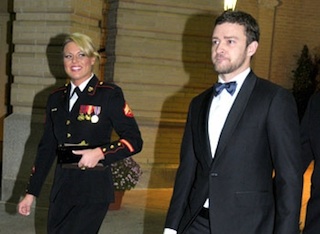 So it turns out Justin Timberlake is more than just a pretty face…and a talented singer…and dancer…and actor (crap, some people are born lucky!). This past weekend, the sexy-restoring multi-hyphenate showed up in Virginia to make good on his promise to attend the Marine Corp. Ball as one of the Marine's dates.
Meanwhile the rest of us celebrated Veteran's Day by making Spinal Tap jokes. Sigh.
For those of you that don't remember, this story stems from back in the heady days of last July. A Marine from North Carolina posted a YouTube video asking the actress Mila Kunis to join him at his Ball. The topic was broached while Kunis and Timberlake were at a press event for a movie that, four months later, none of us can remember (seriously, without cheating, try to say the title out loud right now) and, after Timberlake egged her on, Kunis agreed to go. This inspired a young woman, Cpl. Kelsey De Santis, to use the same technique to invite Timberlake. As pictures now surfacing prove (including the one above from Radar Online), he did just that.
Timberlake wrote about his experience on his website. Here's the beginning of his account:
To all my family, friends and fans –

I'm writing this out to all of you after attending an event that turned out to be one of the most moving evenings I've ever had…

I had the honor and privilege last night of attending The Basic School Instructor Battalion 236th Marine Corps Birthday Ball at the Greater Richmond Convention Center with Corporal Kelsey DeSantis…

I knew I would have an evening that I wouldn't forget… Something I could tell my friends about. What I didn't know was how moved I would be by the whole experience.

I've always been very vocal about my support of our Armed Forces. I've always felt like they offered us the opportunity to live our lives freely without the fear that so many other nations have to endure still to this day. And, they do it without asking for anything in return. I had this very feeling walking into this dinner. So, to say I was stoked to be there would be more than accurate.

As the evening got started, I met Kelsey and we made our way to the ballroom where the Marine Ball was going to be held. I stopped in an area designated as a kind of VIP for some of the officers, I think. I took some photos and shook hands with some of the men and women who take such great care of our freedom. It was nice to be there already.
Then, we moved to the ballroom where the dinner was set up… For a short while, I had the opportunity to sit with Kelsey, get to know her and get a tiny glimpse into what her life as a Marine was like. She talked about her training in mixed martial arts with a passion, a discipline, and a respect. It reminded me of how I hear my favorite athletes talk about their sport or, how I hear my favorites among my peers in music and film talk about their craft.
We sat in this huge ballroom and were the only ones there as, we had beaten the rest of the soldiers who were on their way in. So, we got a decent amount of time to chat before the ceremony started.

She seemed to me to be so humble and honest… Very cool. She also simultaneously seemed like she was nervous about the whole evening and if I was going to enjoy myself. "Are you ok?" she asked 2 or 3 times. "I hope you are having fun. I know you will once my crew of friends get here to the table." I have to tell you, it's not every day that I meet a 23 year old girl and she's more worried about if I'm having fun or if I'm comfortable! It hit me all of a sudden that these were the type of people that look after us and our freedom… Humble, concerned for others before themselves… This was the type of person our Marine Corps was building. I was really blown away.
He's an eloquent writer too? God, I hate that lucky SOB!
Watch a news report on Timberlake's appearance from Virginia's WTVR below:
(h/t BuzzFeed)
Have a tip we should know? tips@mediaite.com