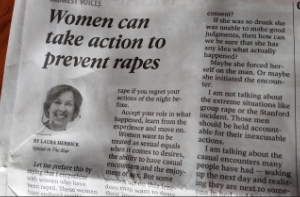 The Kansas City Star is doing damage control Sunday after getting a lot of negative feedback for a guest column that appeared to victim-blame raped women.
In a column called "Women can take action to prevent rapes," Laura Herrick wrote that women who don't want to be sexually assaulted shouldn't allow themselves to get so drunk that they can be taken advantage of. While The Star has already taken the column off their website, Jezebel flagged various parts of the article that seem to imply that the woman can be blamed in such a scenario:
"As women, shouldn't we take responsibility for our bodies by not becoming so intoxicated that we don't know what is happening? Every woman should know her drink limit and stop there.

No, she's not asking to be raped by being drunk. But isn't it her responsibility to reduce the risk by not getting to that point? And if you wake up the morning after doing the 'walk of shame' don't yell rape if you regret your actions of the night before.

Accept your role in what happened, learn from the experience and move on."
Herrick's piece goes on to say that its up to women to control themselves when they drink, and that "If she was so drunk she was unable to make good judgments, then how can we be sure that she has any idea what actually happened?"
Many people took issue at what the piece implied, and publisher Tony Berg has now apologized and said the piece should never have been published.
"I appreciate the point the writer was trying to make about responsibility, particularly when alcohol is involved. But as an older brother to two sisters, I believe when a person is sexually assaulted, it's not their fault. Period."
[Image via KCUR 89.3]
— —
>> Follow Ken Meyer (@KenMeyer91) on Twitter
Have a tip we should know? tips@mediaite.com