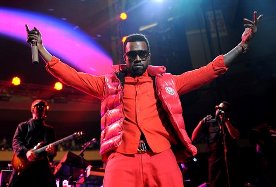 A week after female rapper Nicki Minaj facetiously endorsed GOP presidential candidate Mitt Romney in a song, fellow artist Kanye West released a new tune of his own that seemingly takes a swipe at the Republican contender.
In his new compilation album, Cruel Summer, the 35-year-old echoes the heavily-discussed Romney tax debate with one line of lyrics in the song "To the World":
I be all up in Goldman Sachs like these n*ggas trying to hold me back / These n*ggas trying to hold me back / I'm just trying to protect my stacks / Mitt Romney don't pay no tax / Mitt Romney don't pay no tax.
Last month, Romney stated that he never paid less than 13 percent on federal income taxes, a stark contrast to the 20.5 percent federal income tax report by the Obamas.
I shouldn't have to remind you, but it's important to keep in mind that lyrics don't always reflect the beliefs or views of the singer. My Mediaite colleague Andrew Kirell called Minaj's bluff when her Romney "endorsement" exploded on the Internet, and she was quick to clarify that she did not, in fact, have plans to vote for the conservative politician. But we're thinking West's remark was no joke, as he famously said in 2009, "George Bush doesn't care about black people."
But hey, even if West truthfully dislikes Romney and favors Obama, at the end of the day the president still thinks the rapper is a jackass.
Listen to the track below:
[h/t NewsBusters]
— —
>> Follow Laura Donovan (@LauraDonovanUA) on Twitter
Have a tip we should know? tips@mediaite.com