Karl Rove: If Akin's 'Found Mysteriously Murdered, Don't Look For My Whereabouts!'
Rove: If Akin's 'Found Mysteriously Murdered, Don't Look For My Whereabouts!'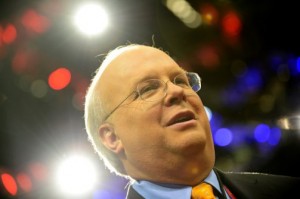 During a private fundraiser with top Republican donors, Karl Rove sought to explain how he intends to use his super PAC, American Crossroads, to defeat President Barack Obama in November. At the same event, Rove noted the need to "sink" Rep. Todd Akin, the congressman now infamous for his comments about "legitimate rape."
"We should sink Todd Akin," Rove said, according to Bloomberg Businessweek's Sheelah Kolhatkar. "If he's found mysteriously murdered, don't look for my whereabouts!"
(But tell us how you really feel, Karl.)
Then "Rove pleaded with his audience for more money—much more." The report goes on to say how Rove outlined some of the work the super PAC had been doing:
Rove explained that Crossroads had conducted extensive focus groups and shared polling and focus group data with "all the major groups that are playing" in the election. "As many of you know, one of the most important things about Crossroads is: We don't try and do this alone. We have partners," he said. "The Kochs—you name it."
…and, so far, he said, they're in pretty good shape:
In Rove's estimation, things are going well. "Barack Obama unleashed hell on our candidate on May 15," he said. "Between May 15 and July 31st, he spent $111 million on ads out of his campaign war chest, and there was about another $17, $18 million spent by outside groups. The day that this started, the Gallup poll was 45-45. On the 31st of July, it was 46-46."
Kolhatkar noted that she was invited to the fundraiser as a guest of a "significant Republican donor." Knowing she's a journalist, at "no point was I presented with, nor did I agree to, restrictions regarding the information I heard," she writes — and while American Crossroads "disputes" her version of events, "a spokesman did not immediately return calls to elaborate."
UPDATE: Rove has now apologized to Akin for the comment, the Associated Press reports.
Republican strategist Karl Rove has apologized to Congressman Todd Akin after joking about the Missouri Senate candidate being murdered.

Akin campaign adviser Rick Tyler told The Associated Press that Akin accepted Rove's apology during a phone call Friday. A Rove spokesman didn't return messages Friday from the AP.
(H/T Bloomberg Businessweek)
Have a tip we should know? tips@mediaite.com