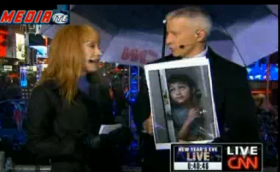 Comedian Kathy Griffin dropped an f-bomb as she co-hosted CNN's New Year's Eve show – the second year in a row she cursed live on-air.
But despite reports to the contrary, Mediaite has confirmed Griffin is not banned from the network.
PopEater's Rob Shuter writes Griffin has been "banned" in a post that is getting picked up all over the web. He writes:
Following her very controversial F-bomb-dropping New Year's Eve hosting gig, CNN executives have decided Kathy Griffin will NOT be getting a 2011 invite. "She was a total embarrassment to the network that calls themselves 'The Most Trusted Name in News.' Even Anderson (Cooper, her co-host) thinks it's time to say goodbye to Kathy," a CNN insider tells me.
But a CNN spokesperson tells Mediaite, "Stories about Kathy Griffin being banned from CNN are incorrect; no decisions have been made regarding next year's show."
So will Griffin be back next year in the same role? It's too early to tell. The ratings certainly held up, with CNN winning the 11pmET hour in both total viewers and the A25-54 demographic, and the entire special in the demo. Of course, it's not just about ratings – can "The Most Trusted Name In News" afford another on-air curse, even if it's during an admittedly soft news event like New Year's?
Either way, it has gotten people talking about CNN when much of the cable news discussion has revolved around Fox News and MSNBC (or CNN's declining prime time ratings).
One more time, here is this year's Balloon Boy related f-bomb:


—–
» Follow Steve Krakauer on Twitter
Have a tip we should know? tips@mediaite.com