Kelly Ripa Talks Michael Strahan's Departure: It's Easy to Forget 'That People Have Feelings'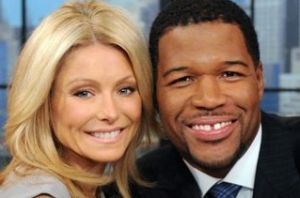 Let's review a little bit about Kelly Ripa, who spent a few days in the spotlight at the end of April even though she wasn't even on her show. April 20, she skipped Live! With Kelly and Michael in protest of Michael Strahan departing for greener pastures at Good Morning America without actually telling her first.
On April 26, she was back in action on Live! and spouted some stuff about "respect in the workplace." Come April 29, Ripa was settling into a comfortable pattern of itty-bitty, eenie-meenie slights at Strahan.
Now, May 11, we get a new interview from the woman who has been in this gig for over a quarter of a decade. She spoke to People, oscillating between giving her team the benefit of the doubt…
There's a part of me that can say, "Okay, I understand. This may have been an oversight." And again, after 26 years, at this point we are like a family. And sometimes when you are so comfortable with somebody, you may not give them the same consideration as somebody you're not as comfortable with – a certain formality falls away.
…and soundly criticizing their choices.
I think that all people are deserving of fair treatment in the work place. People deserve respect. People should be treated equally and with dignity.
She went on to say that it's "easy to forget that people have feelings" when operating like a business all the time.
[image via screengrab]
Lindsey, too, is a person with feelings and a Twitter and a Facebook.
Have a tip we should know? tips@mediaite.com