Kendrick Lamar on Ferguson: How Can They Respect Us if We Don't Respect Ourselves?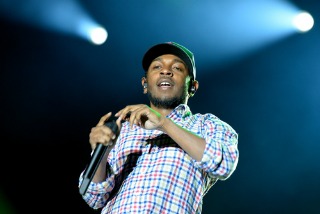 In an illuminating interview with Billboard, hip-hop artist Kendrick Lamar (who is poised for another big year) shared his thoughts on last year's police-related tragedies in Ferguson, Mo., and Staten Island, N.Y.
His remarks have already generated some controversy, with critics suggesting he used the language of "respectability politics" to diminish the role that police brutality and mainstream American culture plays in the black community's struggles.

Fellow rapper Azealia Banks agreed with the criticism:
"When we don't respect ourselves how can we expect them to respect us" dumbest shit I've ever heard a black man say.

— AZEALIA BANKS (@AZEALIABANKS) January 9, 2015
Read his remarks below:
"I wish somebody would look in our neighborhood knowing that it's already a situation, mentally, where it's f—ked up. What happened to [Michael Brown] should've never happened. Never. But when we don't have respect for ourselves, how do we expect them to respect us? It starts from within. Don't start with just a rally, don't start from looting — it starts from within." Lamar, who has said that he wasn't raised devoutly religious, fingers the small figure of Christ dangling from a chain around his neck. "We're in the last days, man — I truly in my heart believe that. It's written. I could go on with Biblical situations and things my grandma told me. But it's about being at peace with myself and making good with the people around me."
Lamar, who hails from Compton, Calif., is likely to release a follow-up this year to his critically-acclaimed good kid, m.A.A.d city (2012). Late last year, he dropped the feel-good self-love anthem (aptly titled "i"), which bears thematic resemblance to some of his remarks in Billboard.
Listen below:
[Image via Shutterstock.com]
— —
>> Follow Andrew Kirell (@AndrewKirell) on Twitter
Have a tip we should know? tips@mediaite.com