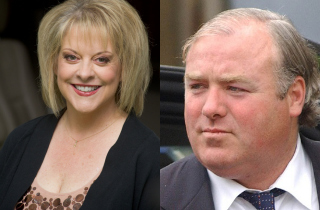 A civil suit against Nancy Grace was cleared to proceed on Friday, after a federal judge denied the HLN host's motion to dismiss.
Michael Skakel, nephew of the late Robert Kennedy, is suing Grace for libel, after an episode of her show claimed that Skakel's DNA was found at the crime scene of the 1975 murder of Martha Moxley; in fact, no DNA was found there. (For the exact, er, type of DNA to which they were referring, click here.)
Skakel was convicted in 2002 of the murder and sentenced to twenty years, but the conviction was set aside by a judge last year, who ruled Skakel had been deprived effective counsel. He is currently out on bail while prosecutors appeal the ruling.
The judge rejected Grace's claim that the error was "minor," and also that Skakel was "libel-proof" by having been convicted of murder.
"Grace's and Karas's comments are not merely a gloss on Skakel's conviction; their statements imply that hard, unfeeling, scientific, and direct evidence linked Skakel to the scene and conclusively corroborated his guilt, when such scientific certainty did not exist," the judge wrote. "This conclusion is particularly apt because the assertion that Skakel's DNA was found near the Moxley crime scene not only is unquestionably false, it is also materially false. The presence of DNA at a crime scene is the type of evidence upon which most people would rely and would erase any notion of innocence."
If this post were written in the key of Grace's show, here's where we'd declare her guilty.
[h/t New York Times]
[Image via Christopher Halloran / Shutterstock.com]
——
>> Follow Evan McMurry (@evanmcmurry) on Twitter
Have a tip we should know? tips@mediaite.com