Kenneth Starr, With an Assist From His PR Handler, Bombs Local News Interview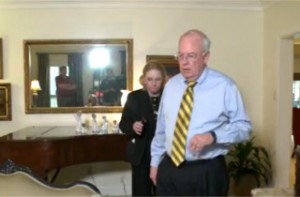 Kenneth Starr bombed an interview with a local TV news reporter when his PR handler interrupted his examination and tried multiple times to get him to deliver a less damaging response to a question about a student's rape allegation.
The disgraced former president and chancellor of Baylor University sat down for an interview with KWTX's Julie Hays, who explained in the final broadcast that Starr's PR handler Merrie Spaeth (who had been introduced to the news crew as a family friend) had been standing off-camera.
After Hays confronted Starr with a 2015 email a student personally sent him, with the subject line "I was raped at Baylor," and asked if he had seen it, Starr initially replied, "I honestly may have. I'm not denying that I saw it."
Spaeth jumped in and called a break after Hays' boss declined to agree to excise that portion of the interview, telling Starr repeatedly that she needed to speak with him.
When Starr returned from his closed-room briefing with Spaeth, they ask that Hays ask him about the student's email again — because, Spaeth said, "I just want to make sure that it's not mis-edited."
On Starr's second take, he returned the answer: "All I'm going to say is I honestly have no recollection of that." Then he turned to Spaeth, who is off-camera: "Was that okay?"
"Don't look at me! Look at her!" Spaeth replied.
Take three: "I honestly have no recollection of seeing such an email and I believe that I would remember seeing such an email. The president of a university gets lots of emails. I don't even see a lot of the emails that come into the office of the president. I have no recollection. None," he said.
Starr was appointed president of Baylor, a private Baptist university in Waco, Texas, in 2010, and during his tenure has grappled with at least eight major allegations of rape and assault against members of the football team.
An external investigation concluded that under Starr's leadership, there had been a "fundamental failure by Baylor" to properly handle these rape allegations. Specifically, the probe exposed the "University's mishandling of reports in what should have been a supportive, responsive and caring environment for students," the chair of the board of regents said. Many noted the irony of Starr, who came to national prominence leading the charge the Monica Lewinsky inquiry, seeing his reputation brought low by his failure to conduct investigations into sexual assault at his own school.
Starr was forced to step down as president last week and subsequently resigned as chancellor, saying, "The captain goes down with the ship."
Have a tip we should know? [email protected]