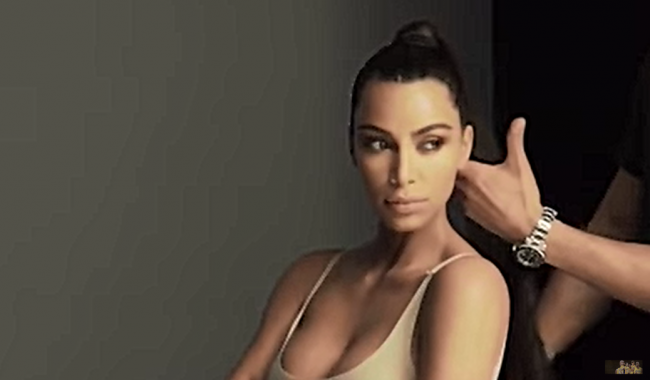 Kim Kardashian became the latest celebrity to be accused of being an insensitive monster for using "cultural appropriation" when the white women was caught allegedly wearing too much make-up and being "really tan'.
The reality TV star recently revealed her new business venture, KKW Beauty, with a photo of herself modeling her new make-up line which includes a highlighter and bronzer, according to the NY Post.
And the fact that a white woman would make her skin darker by applying a bronzer is obviously crazy and caused an unavoidable instant backlash against Kardashian.
According to the Post, one critic said, "What camera took this???," "PHOTOSHOP LEVEL HARD," "Are you trying to get darker?" and "You black now sis?"
Another questioned: "You want to be BEYONCE so much. You actually look like BEYONCE here. happy??"
You dont have to do blackface pic.twitter.com/MLcJ5Hbg9R

— Wynters (@Sacha_Wynters) June 14, 2017
But rather than telling everyone to simply calm down, Kardashian did what celebrities always do in the face of criticism from the hyper-sensitive social justice warriors – she caved and even apologized for doing nothing wrong.
Among her litany of excuses was that she was just "really tan", when the "offensive" photos were taken.
Kim even told the New York Times there may have also been a problem with the picture's "contrast," but insisted no one pointed it out to her.
In a pathetic attempt to apologize, Kardashian said, "I would obviously never want to offend anyone."
"I used an amazing photographer and a team of people. I was really tan when we shot the images, and it might be that the contrast was off."
"But I showed the image to many people, to many in the business. No one brought that to our attention…"
"Of course, I have the utmost respect for why people might feel the way they did…", she explained.
Yes, of course she completely understands why people would be upset. How could they not be?
"We saw the problem, and we adapted and changed right away. Definitely I have learned from it."
At least she has learned from her horrible mistake, but can we ever forgive her?
[image via screengrab]
This is an opinion piece. The views expressed in this article are those of just the author.