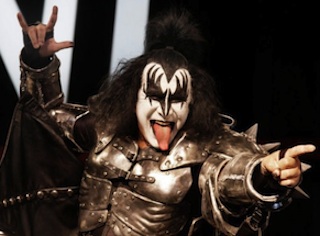 Despite his supportive comments on Fox & Friends Thursday, KISS lead singer Gene Simmons vehemently denied he had endorsed Mitt Romney. On Friday morning, Simmons published a wildly expressive tweet, emphasizing in capital letters that "I HAVE NOT ENDORSED MITT ROMNEY FOR PRES."

RELATED: Kiss Frontman Gene Simmons Voices Support For Mitt Romney, Regrets Voting For Obama In '08
Simmons went on to write a long screed on his official website lamenting how the media had taken his words out of context and reiterated he had not endorsed anyone, and didn't understand why anyone cared who he voted for anyways.
"I suppose the nature of media is, comments are often taken out of context and used for incendiary headline purposes. I was quoted on Fox as saying I prefer Gov Romney only as far as fiscal economic areas are concerned. And I stand by that comment. But I have not endorsed either Gov Romney or Pres Obama," Simmons wrote, adding that he thought President Obama was a "good man. Loves his family. And loves America. But that doesn't mean I agree with his policies."
"The next election is coming up and for some reason, both the left and right of the political spectrum are curious who I will vote for," Simmons added. "I have no idea why anyone would be interested in who I would vote for…or for that matter who anyone else would vote for. I want to hear what both Gov Romney and Pres Obama have to say. And THEN I will pull the lever as my conscience dictates. In the voting booth. Privately. As an American."
Simmons summarized his comments by reiterating his original tweet:
I HAVE NOT MADE UP MY MIND.

I have NOT endorsed Gov Romney for President.

I have NOT endorsed Pres Obama for another term as President.

I DO believe Gov Romney has more qualifications (in fiscal economic areas) than our President.

But I have to hear more from both candidates.

I HAVE NOT MADE UP MY MIND.
Have a tip we should know? tips@mediaite.com