Koch Industries Attempts To Reveal The People Behind "Youth For Climate Truth"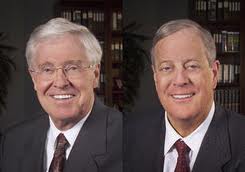 Koch Industries, the conglomerate owned by conservative brothers Charles Koch and David Koch, is currently trying to get to the bottom of a fake press release claiming the company's oil processing arm would be "restructuring its support of climate change research and advocacy initiatives" and would discontinue funding for organizations "whose positions on climate change could jeopardize America's continued global competitiveness."
The press release, which went out last December under the title "Koch Industries Announces New Environmental Commitments," was created by Youth for Climate Truth, a nonprofit advocacy group, and suffice to say Koch Industries hasn't taken too kindly to the organization's prank.
The press release does not explicitly make itself known as a spoof or work of satire and even uses Koch Industries' logo on its letterhead and linked itself to the recently-created website "koch-inc.com."
The group is being defended by Deepak Gupta of the Public Citizen Litigation Group, who, The New York Times writes, is "so confident that its actions are protected by the Constitution that he contends that lifting anonymity must be the purpose of the lawsuit."
Last month, the group's lawyers filed a motion to dismiss the lawsuit and sought to have a judge issue a protective order, contending that the First Amendment protects anonymous speech of the sort used for satirical purposes.
Koch Industries, meanwhile, has publicly stated that the reason it is seeking legal action is not solely or primarily to unmask those responsible for the press release or to keep them from speaking their piece, but, rather, to hold them accountable for the confusion they caused. According to an explanation of the lawsuit:
We are not seeking in any way to silence our critics. This lawsuit was filed because the integrity of our computer systems and our valuable intellectual property was compromised and used without permission, in violation of the terms of service and federal law.
The Koch brothers have long held a contentious relationship with the left, so the creation of such a press release is far from surprising. You might recall that the brothers hosted a rally late last month during which they were protested by "hundreds of environmentalists, union members and liberal activists."
You can read the release for yourselves on Scribd.
Have a tip we should know? tips@mediaite.com