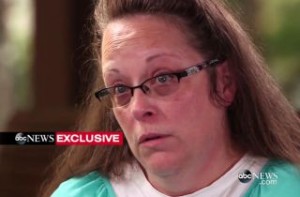 The Kentucky Attorney General ruled that Kim Davis violated the state's Open Records Act, the Courier-Journal reported Wednesday.
Davis was the Rowan County, Ky. clerk who gained national notoriety and became a martyr for the conservative Christian movement last year after she defied a federal judge and refused to issue marriage licenses as a way of protesting marriage equality.
She was represented by Mat Staver, founder of the nonprofit evangelical legal organization Liberty Counsel, who is also representing Alabama's former chief jurist Roy Moore in his own legal battle over same-sex marriage.
The state AG's opinion is only tangentially related to the fracas surrounding marriage licenses. It stems from an open records request made by the nonprofit Campaign for Accountability, which sought copies of documents related to Davis' retention of Staver and Liberty Counsel.
The Courier-Journal's Morgan Watkins writes:
Liberty Counsel acted on Davis's behalf when it rejected the records request as improper for multiple reasons, according to the Office of the Attorney General's opinion, which is dated June 30. The Campaign for Accountability filed an appeal in late March and resubmitted its request to Davis in April.

On Davis's behalf, Liberty Counsel responded to the new request by producing certain documents but withholding others, the opinion said. Liberty Counsel cited attorney-client privilege and legal exceptions for preliminary documents among its reasons for not providing some records.

When the attorney general's office asked to see the withheld documents so it could review them, Liberty Counsel refused, saying the request was improper, the opinion said.

Davis didn't violate the Open Records Act by having her private counsel respond to the records request, the opinion said, but she did violate it by refusing to allow the attorney general's office to inspect the supposedly exempt documents.
Staver said Tuesday that his office would be providing the documents following the AG's opinion.
Have a tip we should know? tips@mediaite.com