L.A. Mayor Villaraigosa: Hispanic Lineup At GOP Convention Is Just 'Window-Dressing'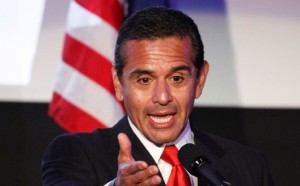 The Republican National Convention will be a showcase for the most recognizable conservatives in the country, giving them a platform to voice their support for Mitt Romney. The RNC convention will include speeches by a number of Hispanic politicians, most notably Florida senator Marco Rubio, who will be introducing Romney later this week. Los Angeles' Democratic mayor Antonio Villaraigosa dismissed the GOP's attempts to highlight Hispanic faces in the party as "window-dressing."
RELATED: Gov. Jan Brewer: President Obama Is 'Race-Baiting' And 'Pandering' For The Hispanic Vote
During a press event earlier today, Villaraigosa said that the Republicans are wasting time if they think bringing the party's most recognizable Hispanic faces to Tampa is going to help them with Hispanic voters.
"You can't just trot out a brown face and a Spanish surname and expect people are going to vote for your party or your candidate," Villaraigosa said during a Democratic press event aimed at countering the GOP message in Tampa.

"Window-dressing doesn't do much for a candidate. It's your policies and your platform," said Villaraigosa, the chairman of the Democratic National Convention in Charlotte and a possible candidate for California governor in 2014. "This is a party that calls for the self-deportation of 11 million people."
Villaraigosa predicted that the Democratic ticket would end up getting at least "70 percent of the Latino vote."
On this week's RNC schedule, speakers are set to include Ted Cruz, the Republican candidate for Senate in Texas, New Mexico governor Susana Martinez, and the aforementioned Rubio.
h/t The Hill
[Image via]
Have a tip we should know? tips@mediaite.com
Josh Feldman - Senior Editor