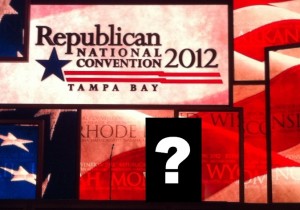 If you like surprises, then the Republican National Convention has a treat for you: an as-of-yet unnamed mystery speaker on Thursday night in the lead-up to Mitt Romney's acceptance speech. The official RNC schedule [PDF] puts "To Be Announced" after remarks by U.S. Olympians and right before a performance by gospel singer Bebe Winans. Who is getting the primetime slot? Let the speculation begin!
Now, it's most likely that this mystery speaker will not be that big of a deal, but because it's a secret, everyone is positively dying to find out as soon as possible. The Wall Street Journal throws out a list of potential candidates for the speaking slot: Zell Miller, a former Democratic senator from Georgia best known for his fiery 2004 RNC convention speech, rocker Ted Nugent, General David Petraeus, whose appearance at a political event seems unlikely, former First Lady Nancy Reagan, Chesley "Sully" Sullenberger, and none other than Sarah Palin.
Over at National Review Online, Jim Geraghty thinks the Palin choice would be a good one, because "if there is one thing we know she does exceptionally well, it is give convention speeches!"
Ed Morrissey at HotAir rules out the Palin pick, highlighting a story saying the former vice presidential candidate will assuredly not be speaking, but throws out a few other names as candidates, including Romney's former rivals Rick Perry, Herman Cain, and Michele Bachmann, as well as none other than Rush Limbaugh himself.
RNC Chairman Reince Priebus teased on Fox News this morning that he knows who the speaker is, but the Romney campaign is professing to have no knowledge of the speaker's identity.
"I do not know. I'm intrigued," Eric Fehrnstrom, a senior advisor to Romney, told ABC News' Jonathan Karl and Yahoo! News David Chalian amid laughter at the ABC News/Yahoo! News breakfast in Tampa Monday morning. "I had not heard that that there was going to be a mystery speaker, no."

Other top members of Romney's team – senior advisor Beth Myers, director of advertising Ashley O'Connor, and pollster Neil Newhouse – also claimed ignorance about a surprise guest speaking Thursday evening.
So let's play the game: who do you think will be the RNC's mystery speaker on Thursday?
—–
Follow Josh Feldman on Twitter: @feldmaniac
Have a tip we should know? tips@mediaite.com
Josh Feldman - Senior Editor