Laptop Stolen From Redskins Trainer Contained Medical Records of Thousands of NFL Players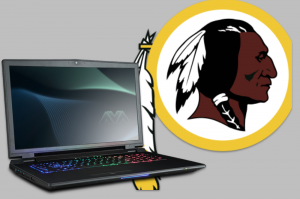 The Washington Redskins have another scandal of sorts on their hands.
This one comes in the form of a stolen laptop that was lifted from the car of a team trainer in May that contained the medical records and key personal information of thousands of athletes who went through the NFL combine in the past several years. The franchise was forced to confirm the details of the story Wednesday after it was initially reported by Deadspin.
After the trainer's car was broken into in Indianapolis on April 15, he returned to find that his backpack was among the items taken by the thief. In that backpack were the aforementioned records from nearly a decade of scouting combine athletes, including current Redskins players. One source familiar with the situation told ESPN simply, "It's very bad."
An email from May 27 by the NFLPA Executive Director DeMaurice Smith went out to all team player representatives, reading in part, "We have been advised that the backpack contained a password protected, but unencrypted, laptop that had copies of the medical exam results for NFL Combine attendees from 2004 until the present… It is our understanding that our Electronic Monitoring System prevented the downloading of any player medical records held by the team from the new EMR system."
The email, originally leaked to Deadspin, also noted that the NFL Players Association consulted directly with the U.S. Department of Health and Human Services after the information was discovered to be missing.
Late in the day Wednesday, the Redskins organization released a statement confirming the break-in, saying in addition, "The team is working with the NFL and NFLPA to locate and notify players who may have been impacted. The team is also taking steps to prevent future incidents of this nature, including by encrypting all laptops issued to athletic trainers and other team personnel and through enhanced security training."
—
J.D. Durkin (@jiveDurkey) is an editorial producer and columnist at Mediaite.
Have a tip we should know? tips@mediaite.com