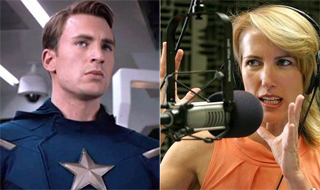 You know what's a good way to piss some people off? Find a movie with the biggest opening of all time and imply on your popular Facebook page that adults excited to go see it are immature at best and not great parents at worst. That appears to be the mistake Laura Ingraham made this afternoon when she posted a picture jabbing an elbow at fans of the mega hit The Avengers.
RELATED: Pentagon Spokesperson: DoD Quit Consulting On Avengers Movie When It Stopped Making Sense
In Ingraham's defense, she appears to have just been making a little, sarcastic joke. To promote her book, Of Thee I Zing, the radio host has been posting pictures of annoying people and things with a snarky caption and the word "ZING" emblazoned across it. For example, here's another one from today in which Ingraham takes on airline passengers who put their feet up on food trays.
Nearly anyone can agree that that's lame, but Ingraham found herself much more in the minority with this post: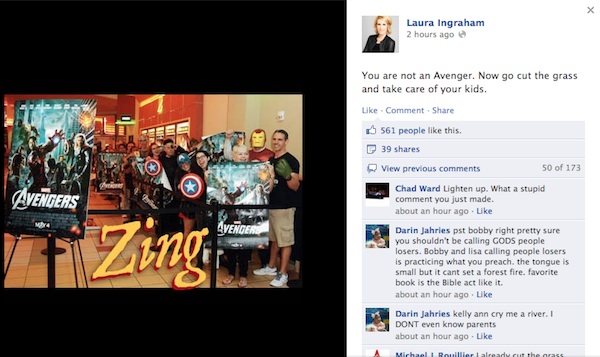 Joke though it may be, The Avengers is popular. Really popular. And Ingraham's fans proceded to Hulk out.
And by "Hulk out," I mean write well-worded and thoughtful comments complaining about Ingraham's stereotyped insult. Here are a few!
"I always listen to your radio talk show but this really is uncalled for. Just because a parents have kids doesn't mean that parents can't enjoy some of their time. These parents more likely did everything to make sure that their kids are with someone they know and trust before heading out to movie theater. Parents need to have a good time and fun also!"
"Frankly, I thought that was pretty offensive. So, essentially, any parent who makes time to do something aside from spending every waking moment with their child is a bad parent? In my copy of the Bible, it says to put God first, then my husband, and then my children. Attending a movie with my husband is an activity we can do together for less than a lot of activities cost and we enjoy ourselves. We go after our son is in bed and he is none the wiser as he is watched over by a family member who loves him. When we stand in judgement of others without the benefit of a mirror, eventually we come out looking bad. Lighten up, Laura."
"Is she being sarcastic…? 'Cause it's not funny. I don't get it, Laura. I've heard you bash gamers on your show before, but all I had to do then was turn up World of Warcraft and pound out 3 Inches of Blood to drown you out until you had something legitimate to say. Now you're filling up FB with this ridiculousness? I can see where making fun of stupids who deserve it is funny (that's what started my listening to your show) but what gives? These are just fans having a little fun. Honestly, is there something anti-Constitutional about video games and comic books that I missed, or is this just your personal prejudice against geeks?"
"Sorry, but Laura's not right. She's crapping on people having clean, harmless fun. How can that be right?"
"Laura I think you missed the target on this one. I'm a proud Republican but posts like this are petty and do nothing but provide fodder for the left."
Don't get too worried though. There were a few people who took Ingraham's side. Like this guy:
"Lol, some people are so sensitive. Good one, Laura! Now it is time for me to get off Facebook and wash dishes. ;-)"
And…uh…this guy:
"I vote for Laura to wear the Black Widow's uniform!!"
That's nice. I guess.
Have a tip we should know? tips@mediaite.com