Laura Ingraham Rips 'Classless' Rove: Stomps On Bachmann's 'Political Grave' To 'Feel Better About Himself'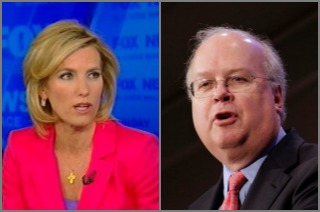 Remember how Karl Rove bid Michele Bachmann adieu by pointing out that she "did nothing" during her time in Congress? Well, Laura Ingraham ain't pleased. Chiding Rove for making a "classless" remark, Ingraham resented "these Bush people" — and took a swipe at Rove's own 2012 election results, warning him not to throw stones.
"I'm getting a little tired of these Bush people," Ingraham argued. "We didn't need Karl Rove taking a swipe at Michele Bachmann. That was classless. We'll get into that as well — classless."
"You know, pick on me Karl, okay?" she added. "She's on her way out. For someone to say she's never done anything for conservatism, she has never done anything, she doesn't do anything — she's bowing out, okay? I mean, do you have to stomp on the political grave of Michele Bachmann? Does that really make Karl Rove feel better about himself?"
Ingraham further recalled that Rove didn't fare too well during the election, so perhaps he'd be wise not to "be throwing stones at other people and their contributions to conservative thought, thank you very much."
Rove reacted to Bachmann's announcement that she would not seek re-election during an appearance on ABC's This Week.
"It will be an opening for the Tea Party," he said. "Michele Bachmann was the chairman of the Congressional Tea Party Caucus, and in that positon did nothing. Now the position is open, someone next year will accept the chairmanship of it, and they may do something with it."
Listen below:

Watch Karl Rove's comments on ABC's This Week:
Have a tip we should know? tips@mediaite.com