Leaked Audio, Chats Reveal How Axios Handled Jonathan Swan-Trump Interview Controversy: 'Sh*tshow'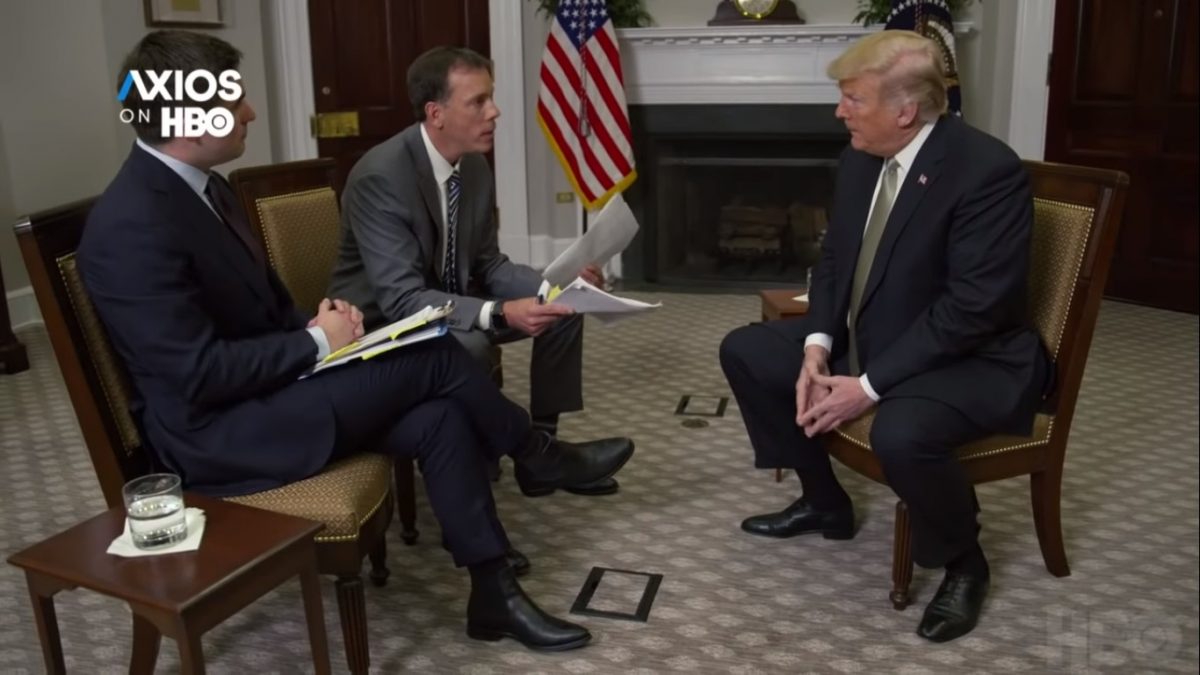 In a surreptitiously recorded staff meeting leaked to Huff Post, Axios editor-in-chief Nicholas Johnston privately revealed how the company handled the fallout from their HBO interview with President Donald Trump after it was widely attacked as uncritical access journalism.
The meeting included several dozen of the site's staffers and was held on Nov. 1, amid the outrage over Axios White House reporter Jonathan Swan's filmed interview with Trump, in-which the president first claimed that he plans on reversing America's birthright citizenship policy with an executive order.
"Exclusive: Trump to terminate birthright citizenship," read the site's headline for the story that acted as both a scoop and free promo for their HBO show. However, Trump can't kill the birthright rule with an executive order, meaning Axios uncritically parroted his false claims to all their viewers and readers without much-needed context — until they were forced to update the article and change the headline.
During the recorded meeting, Johnston acknowledged the headline wasn't perfect and noted that including the start time in the lead was questionable, but he didn't actually apologize for either and instead suggested it was just "a little thirsty."
"We get, like, 95 percent of them right. That one we leaned in too far," he said. "I had not thought about the 9:30 time airing. I don't hate it — I don't love it. I kind of hate it a little more now, hearing this feedback."
One staffer questioned if the post was just "inflammatory in service of promoting our HBO show."
"The combination of the headline, the very obvious and unchecked fallacy just block-quoted in the middle of the post, and the date and time of the show at the top of the post," the unnamed person said. "Like, all three of those things together — four if you count the optics of, I don't know, however you want to read [inaudible] Swan in the middle of the interview — it just, it looked bad. It looked bad in a lot of different ways, and it all added up."
Later in the meeting, Johnston elaborated on what went wrong with the interview:
"A lot of this is learning how to do this, right? This HBO show is a shitshow because we're just sort of doing it by the seat of our pants. And if our worst nightmares come true and it gets picked up and we do it again next year, I hope we'll have learned a lot of lessons on how to build structure for this and how to not be obnoxious about it. Like, remember, the interview taped … this was turned around in 12 hours. Because of all these sort of pieces coming together, it's tough to do it that quickly, and that's, I think, where some of these things slipped through."
He also had a message for the haters in media attacking Axios on Twitter, particularly the left-leaning news site Splinter, which frequently criticizes Axios' style of access, scoop-focused reporting.
"No, we don't need to delete our accounts. We'll keep our accounts, but I think we can be more circumspect about — and we're mostly good about this — not engaging with the trolls," he noted. "Our profile is going to get bigger and bigger and bigger, and we're going to have more cool successes. And you know what? We're on HBO, Splinter.com, and you're not. You're fucking laid off by Gizmodo. I'm sorry. So they're going to come after us on this kind of stuff."
After Huff Post released their Axios story, Splinter responded to Johnston's attacks by tweeting a song by the Dixie Chicks titled, "I'm Not Ready to Make Nice."
Hey @axios https://t.co/BbHuz1VU0M

— Splinter (@splinter_news) November 9, 2018
When a staffer asked Johnston if he was "worried" about the reception of a "they're just jealous of our success" approach, the editor declared that he is not "worried about the brand."
"I think about all these criticisms a lot. But I also realize that we're a giant target. We have a little bit of swagger, which I like," Johnston said. "Like, we go on television. Mike and Jim are sort of preeny people. So, yeah, we're sort of proud and braggy about ourselves, and I don't feel bad about that at all."
In the Axios Slack channel, other staffers agreed that the trolls are best left alone — even if they're fellow journalists.
"I've long learned that it's pointless to respond to someone being snarky on the internet," they said. "Their goal isn't to be accurate — it's to make themselves look better by bullying someone else and therefore putting themselves in the Cool Kids club."
Another employee described the Twitter disagreements as "a culture of tearing down journalists" that is popular "AMONG JOURNALISTS."
In an internal newsletter, Johnston wrote that some of the critiques were "valid," but finished the message by bragging about the endless amount of free press they received because of the controversy.
"You can't buy the amount of public exposure we got this past week for our journalism — and I am proud of all of you," he wrote. "P.S. I was especially proud of those who wrote notes to Swan when he was getting unfairly criticized. Made me smile."
In a statement to Huff Post, Axios spokeswoman Megan Swiatkowski said that the company won't discuss internal meetings and called the recording "creepy."
"I have no idea if this is accurate," she added.
Swiatkowski also vouched for Axios' editorial freedom in regards to their project with HBO, but finished her message with more promotion of her own: "Thank you for watching and please tune in Sunday."
[image via screengrab]
Follow the author on Twitter (@calebecarma).
Have a tip we should know? tips@mediaite.com