Lee Daniels Confirms: Mo'Nique Was 'Blackballed' by Hollywood After Winning Oscar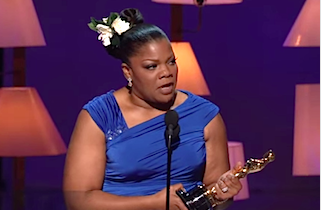 In the months leading up to the 2010 Oscars, Mo'Nique, the stand-up comedian who delivered a ferocious performance as a horrible mother in Lee Daniel's Precious (Based on the Novel Push by Sapphire), famously refused to do the typical awards circuit campaigning, telling voters to focus solely on her performance instead.
"Anytime I've been given an award, it has been because of the performance; what else goes into it?" the actress told The New York Times in January of that year. "Look, it makes me appreciative any time someone says they may want to honor your performance. I'm appreciative at any talk in reference to any award, but there's not much I can do about it now. The performance is done."
It paid off. Mo'Nique won the Best Supporting Actress Oscar, but has not appeared in a major Hollywood movie since. In a new interview with The Hollywood Reporter, Mo'Nique says she believes she's been "blackballed" by Hollywood for refusing to play by their rules.
"What I understood was that when I won that Oscar, things would change in all the ways you're saying: It should come with more respect, more choices and more money," Mo'Nique told THR's Seth Abramovitch. "It should, and it normally does."
But instead, she echoed the words of Hattie McDaniel, the first African-American actress to win an Oscar, in 1940 for Gone with the Wind:"It was as if I had done something wrong." She explained:
I got a phone call from Lee Daniels maybe six or seven months ago. And he said to me, "Mo'Nique, you've been blackballed." And I said, "I've been blackballed? Why have I been blackballed?" And he said, "Because you didn't play the game." And I said, "Well, what game is that?" And he gave me no response.
Daniels, who also directed The Butler and is currently producing Fox's hit show Empire, responded to THR's request for comment with this statement:
"Mo'nique is a creative force to be reckoned with. Her demands through Precious were not always in line with the campaign. This soured her relationship with the Hollywood community. I consider her a friend. I have and will always think of her for parts that we can collaborate on. However, the consensus among the creative teams and powers thus far were to go another way with these roles."
Watch her 2010 acceptance speech below, via the Oscars:
[Photo via screengrab]
— —
>> Follow Matt Wilstein (@TheMattWilstein) on Twitter
Have a tip we should know? tips@mediaite.com