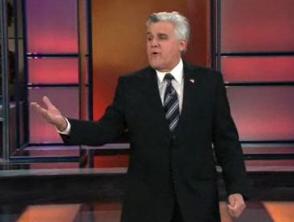 Jay Leno absolutely unloaded on NBC last night as rumors circulated about a major late night shake-up at the network.
It was more than a gentle ribbing, and fairly uncharacteristic – especially from 10pm Jay Leno. So what does it mean?
• Leno is in the driver's seat – and knows it: It seems almost unfathomable that Jay Leno has somehow emerged from all the shuffling that put him at 10pmET in the first place and off of The Tonight Show as, essentially, the savior of the late night line-up. And he knows it. "If we did get canceled, it would give us time to maybe do some traveling," he said in his monologue last night. "In fact, I understand FOX is beautiful this time of year."
It was jokes like this that show Leno truly relishing the moment – after getting bad press for being moved off of The Tonight Show last year, then dealing with a year of bad press for sagging 10pm ratings, NBC wants him back in his old timeslot. They would move Conan O'Brien to 12:05amET for an hour and Jimmy Fallon to 1:05amET. But Leno comes out in a better spot, and last night he was visibly gloating. Most of his jokes could be summed up as, 'See, I told you so.' And his comments about leaving the network are not likely to come to fruition either – he wants that 11:30 slot back.
• Comcast may not be totally comfortable with this: It was interesting to see NBC release the notable parts of the monologue early on NBC.com in embeddable video form (video below). But one key joke was taken out of the clip reel. Right before Leno said, "What does NBC stand for? Never Believe your Contract" he had another related joke, that involved Comcast. "The justice department announced they will conduct an anti-trust review of Comcast's proposed deal, you know the merge with NBC," said Leno. "Anti-trust review. Which is the relationship I have with NBC. Anti-trust."
It was a harsh joke and a direct shot at his employer, but it also involved the company looking to take over NBCU. While the late night storylines have been played out very publicly for years, this is the first instance Comcast has a vested interest in the result. Will they have a say in the transparency of the process?
• No one comes out a winner: "I don't think there's any truth to the rumor," said Leno of his cancellation. "NBC only cancels you when you're in first place." Well, not exactly. Conan O'Brien isn't getting canceled, but he is essentially getting demoted. The news coming out of NBC serve to say the network no longer trusts O'Brien can right the ratings ship, and although they want him at the network, they'd rather have Leno back in the spot (for fear of losing someone they currently see as a more valuable commodity). That's why the news NBC is 'letting' Conan decide whether to take the Midnight slot or leave the network, as TMZ is reporting, is not a positive for the Tonight Show host. It means they'd rather 'let' Conan leave than Jay. Meanwhile Fallon gets pushed back half hour as well.
Of course, the executives behind the 10pm experiment, with Jeff Zucker at the top, will clearly come out looking like they made the wrong move as well. It didn't last a year before the experiment was over – and the results were not good.
• This story will be tied up sooner than later: One of the key parts of Bill Carter's NYT story about the shuffling is the amount of power given to the affiliates. "The moves are being driven by pressure from NBC's affiliated stations, which have seen ratings for their late-night local newscasts plummet since September," he writes.
Well the affiliates are meeting with NBC on January 21 – less than two weeks. And with Leno taking jabs at his employer that NBC (and Comcast especially) can't be happy about, they'll want to see a quick resolution to this. By the time the Vancouver Olympics hit the NBC airwaves and all the late night hosts disappear, NBC's late night schedule will look completely different. And as amazing as it sounds, Jay Leno is driving the process.
> VOTE: Who should host the Tonight Show?
Here's a look at the monologue:


—–
» Follow Steve Krakauer on Twitter
Have a tip we should know? tips@mediaite.com