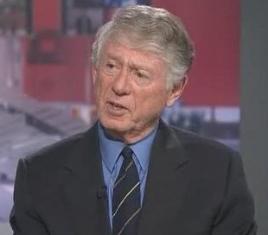 On the night rumors swirled over whether Ted Koppel may be heading back to ABC News as anchor of This Week, he was on BBC America in his commentator role to talk about the response to the Christmas Day attempted terror attack.
And the former hard newsman did not hold back on making his very strong opinions known.
In an interview with BBC World News America anchor Matt Frei, Koppel said of the overall response, "I would classify it as an absolute triumph for al-Qaeda." He continued:
We have responded so intensely that they must be sitting there wherever they are sitting these days, in their caves, thinking 'not bad. I mean if we can do that with a failed attempt, just think what we can do with a successful one.'
Koppel called the response an "overreaction" and something that "all that our media has been yapping about." Unlike almost anyone on any side of the aisle, Koppel thinks Pres. Obama's initial response was the right one. "I think the President's initial reaction was the right one," he said. "I think his initial reaction was, 'I'm here in Hawaii, I'm still being President, I'm being informed, but I'm going to do it quietly."
If you think this doesn't sound like the man who anchored Nightline for decades, you'd be right. In a July 2008 interview with Gail Shister, he talked about his new role at BBC America. "You never knew what my opinions were, nor should you have," he said at the time. "My venting gland has shriveled over the years. I spent so long keeping my opinions to myself, it's kind of nice to be able to let loose."
And now Koppel is going to anchor a Sunday morning show? Can he realistically interview Homeland Security Sec. Janet Napolitano after comments like this?
It makes it more complicated. In some ways, Ted Koppel has entered the Hume Zone. For years, Brit Hume was a hard news guy, keeping his opinions bottled up as anchor at Fox News and reporter at several broadcast networks before. Now he's telling Tiger Woods to find Jesus.
Here's one other key part of the Shister interview, which was pegged to the Meet the Press job. "That's the kind of thing that doesn't make a whole lot of sense to me," he said. "They need to find somebody younger than Tim, not older than Tim. He was 58. I'm 68. I just don't think it's realistic." Now Koppel is almost 70. And describing America's response as "an absolute triumph for al-Qaeda." And people thought George Stephanopoulos had partisan baggage.
Here's Koppel's BBC America comments:



—–
» Follow Steve Krakauer on Twitter
Have a tip we should know? [email protected]