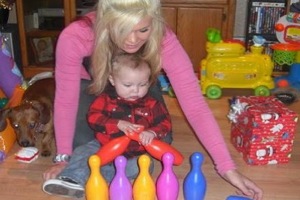 An internet violation is not the only mess from 2008 that Sarah Palin has not yet been able to clean up. The Palins woke up to a blog post this morning by Mercede Johnston, Levi Johnston's sister and aunt to Sarah's nephew, Tripp, who accuses the Palins of keeping the baby away from his father's side of the family.
The post, a guest stint on the blog The Immoral Minority republished on Andrew Sullivan's Daily Dish, describes in teenage language (Mercede is younger than Levi) her first meeting with her nephew– which she claims lasted 60 seconds before the Palins escorted her away from the child– her repeated attempts to see Tripp, and the infrequency with which both she and her brother can see the child. She notes:
Bristol kept Tripp away from us because Levi still lived at home with my mother and myself and she didn't want Tripp over there because of the fact that some of my friends, who are females, might stop by. She didn't want her son around any other females.

[…]

Today's date is 4/23/2010, I have not seen my nephew in over two months. I still have his Valentine gifts in a nice display waiting for him on a shelf.  And I also have a live rabbit, as well as a chocolate rabbit that is bigger then him(for a few more months!), and a big Easter basket waiting for him.

But who knows when I will see him next? It could be another two months from now. There was a time when my family went FIVE months without seeing him!
This headache surely can't come as a good thing for the Palin camp, who have been trying to maintain Sarah's image strictly political and separate her as much as possible from the old Wasilla life the Johnstons epitomize without losing the appeal of their rugged image. Whether anyone will listen to Mercede, who has made similar claims in the past, and her brother, who is somewhat discredited in light of his Playgirl shoot and past sightings hanging out with world's worst dad Jon Gosselin, is yet to be seen, but what is clear is that the Johnstons aren't going away anytime soon.
Have a tip we should know? tips@mediaite.com