Liberal Outrage Brewing Over NY Post Reporter Whose Boyfriend Enjoys Her Sandwiches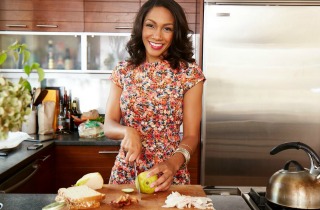 "[A] young woman has attracted attention from culinary world icons such as Emeril Lagasse, Michael White and Ken Friedman with 300sandwiches.com," a New York Post story published on Tuesday began. The Post revealed that this mystery woman was, in fact, New York Post Page Six reporter Stephanie Smith. The Post story revealed that she not only enjoys making sandwiches for her boyfriend, he requests them frequently. Now, outrage is swelling over Smith's boyfriend's sandwich requests.

"My boyfriend, Eric, is the gourmet cook in our relationship, but he'd always want me to make him a sandwich," Smith begins.
Each morning, he would ask, "Honey, how long you have been awake?"

"About 15 minutes," I'd reply.

"You've been up for 15 minutes and you haven't made me a sandwich?"
"To him, sandwiches are like kisses or hugs," she continues. "Or sex."
RELATED: Rep. Cleaver Reveals Ingredients Of 'Satan Sandwich' And Why His GOP Colleagues Are Not 'Satan'
"Sandwiches are love,' he says. "Especially when you make them. You can't get a sandwich with love from the deli."
"Wait a second," MSNBC host Chris Hayes reacted. "This asshole was literally waking up every morning and saying "Why haven't you made me a sandwich yet?'"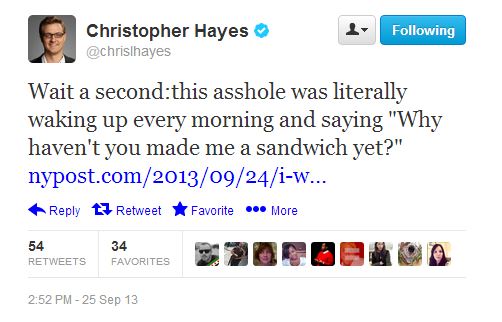 "I recommend changing the locks when he goes to work," author and Slate.com columnist Amanda Marcotte submitted.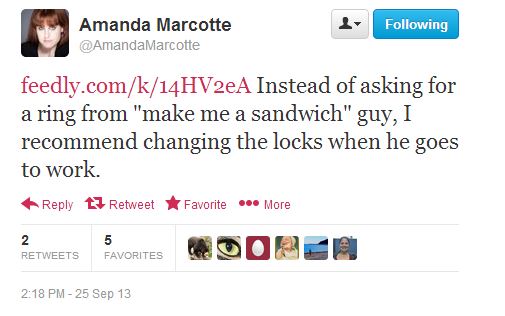 "No matter what's on the menu, Eric smiles and says thank you," Smith concluded in her revealing article. "He's just happy I cook for him at all."
She seems happy too.
[Photo via Rene Cervantes]
— —
> >Follow Noah Rothman (@NoahCRothman) on Twitter
Have a tip we should know? [email protected]