Libertarian VP Candidate: We Are 'Watching a Scary Movie' and 'Can't Change the Channel'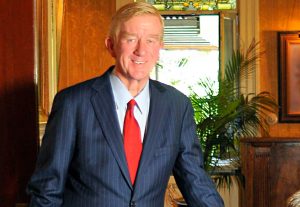 Libertarian candidate for VP Bill Weld offered mild praise for both Tim Kaine and Mike Pence, but he said that the choice between the two major party tickets presented at the debate Tuesday night evinced a "scary movie" from which Americans "can't change the channel."
Speaking to WABC's Rita Cosby shortly after the debate, Weld, the former Republican governor of Massachusetts, said that both the Veep candidates on stage made it clear that unifying the country was not a priority for either Republicans or Democrats. The major parties "want to kill each other," he said. "So, you know, when they're saying how they're going to unify the country, it would be against everything that they've done to this point."
While he offered that they "were both pretty good," he gave Pence points for better behavior, saying:
I thought Pence was effective in demeanor, and Senator Kaine, who's a good guy, I know him a little bit personally from Virginia, he's a very good guy, but he was interrupting absolutely all the time. So he must've been coached to do that, but I thought it wore a little bit thin.
"I might have given it to Pence on points, he said, though he hastened to add that Pence was unable to defend or speak to Trump's several insults and smears, which Kaine mentioned.
Weld and his running mate Gary Johnson were not invited to the first two debates because they did not reach the national polling threshold of 15%, which is set by the Commission on Presidential Debates. There are two remaining presidential debates — on Oct. 9 and Oct. 19 — but Johnson's current RCP poll average hovers a little over 7%.
"Americans are frustrated, they think they're watching a scary movie and they can't change the channel, as my wife says.  But they can change the channel, and it would be Gary Johnson and Bill Weld," he said.
—
Audio via WABC.
[photo: Johnson-Weld campaign, via Flickr. CC BY 3.0]
Sam Reisman (@thericeman) is a staff editor at Mediaite.
Have a tip we should know? tips@mediaite.com