Star Magazine Draws Ire With Its Probably Bogus Story About Britney Spears Getting Beaten Up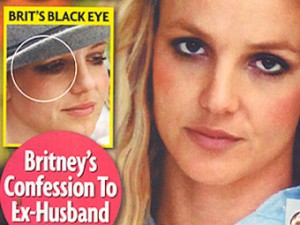 Rumors have been swirling this week about tabloid darling Britney Spears and her current boyfriend (slash former agent), Jason Trawick. According to this week's issue of Star Magazine—one of America's lying-est tabloids—Trawick's relationship with Spears has turned abusive. The mag said it has a picture and an audio recording of Spears to confirm their story. Britney's people, though, say the report is "completely and utterly false."
Star bases its account of Spears's supposed woes on an audio recording leaked to them by Jason Alexander (no, not that Jason Alexander), a man who was married to Britney for 55 hours in 2004. "Britney is in an abusive relationship," Alexander told the magazine. "She told me her life had turned into a nightmare." He played them an audio recording, supposedly of a conversation he had with Spears, in which the woman he says is Britney calls Trawick a "f*cker" who "beat on me." That audio has since been leaked to Radar Online. Additionally, Star accompanies their story with a picture of Spears in which she appears to have a black eye.
Gawker's Maureen O'Connor thinks the photo looks an awful lot like "an enhanced image of Britney from a day when her mascara was running." And according to Britney Spears's managers, Larry Rudolph and Adam Leber, the rest of Star's report is no more true than that apparently doctored photo. Yesterday, Spears's team took to the singer's website to make an official statement:
Every aspect of the story published by Star Magazine is completely and utterly false and Star Magazine was informed of the falsity of this story before it was published. The statements attributed to Jason Alexander are a complete fabrication as Britney has not had any form of communication with Mr. Alexander in years. The audio recording posted on Radaronline this morning purporting to be between Britney Spears and Jason Alexander is so obviously fake as to be laughable. Suffice it to say, that Jason Trawick has never laid a hand on Britney. This is just another example of the irresponsible nature of the tabloid media relying on shoddy sources and false information for the sole purpose of selling magazines, without regard to the truth and without regard to who they hurt in the process. These irresponsible statements are defamatory and Britney Spears' legal team will be taking legal action against all of the appropriate parties.
Star, for its part, has updated the online version of the Spears story with a statement from Alexander: "I completely stand behind my story. That is absolutely my ex-wife Britney Spears on that tape. I grew up with her since I was in 4th grade and I know her voice. She has been calling me for years." The magazine also says that Alexander has passed a polygraph test about his conversation with Spears, for what it's worth.
If the audio and the photo are in fact fake—which seems to be the likeliest outcome—this could represent a new low for the tabloid (and for Radar). Maybe Star should just stick to writing actually verifiable stories about Q-list "celebrities." For the latest updates on the saga as it unfolds, check out Gossip Cop.
[h/t Gawker]
Have a tip we should know? tips@mediaite.com