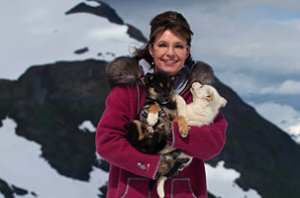 I'm taking a quick sojourn away from my normal home over at Sports Grid, because an announcement of the World Cup's future host nations is kind of important. As you may have heard, the United States bid to host the 2022 games fell short, and the Middle East's Qatar will bring that corner of the world it's first truly major sporting spotlight in just twelve years time.
As much as the international soccer is about sport, it's also got it's place in culture and politics (go read Franklin Foer's How Soccer Explains the World and then thank me later). Which means that there are more than one theory as to how Qatar was able to decisively earn the selection for 2022. I could go off on a rant here about that, but Alexi Lalas said it better during this morning's broadcast: "We throw around 'corruption' a lot when we talk about FIFA."
Plus, dwelling on this will make me upset, so I turn to satire involving America's Sweetheart, Sarah Palin. Seriously, when it comes to the politics of this, there's actually no one else I'd rather hear from because of the pure entertainment value. You see, if there's anything conservative pundits love more in the world than hating soccer, it's taking advantage of an opportunity to point out shortcomings of the current administration. With the US losing the 2022 bid to a non-western country, it is just too easy.
Which is why I decided to play a game called, "What would @SarahPalinUSA say about this announcement news?" Here's a few World Cup related tweets that may have been left on Sarah's draft room floor, complete with awkward metaphors and hyperbole at its finest:
Good riddance World Cup! Just would have been another spend and spend program that increases taxes
How fitting that this President supports a sport played by socialists and loses out to extremists. What a waste.
Our inability to bring the world's game to America is as bad as the inability to stop WikiLeaks
Kenya is really close to Qatar. Just saying.
I feel for our North Korean allies for also losing out to Qatar for the 2022 World Cup. You'll get them!
And I end with the absolutely most obvious one:
Well, at least I can watch the 2018 World Cup in Russia from my house
As a reminder and disclaimer – just way in advance – NONE OF THESE ARE REAL.
Have a tip we should know? tips@mediaite.com