Limbaugh: A Source Told Me Obama Got Worst Grades In Harvard University's History
Limbaugh: A Source Told Me Obama Got Worst Grades In Harvard's History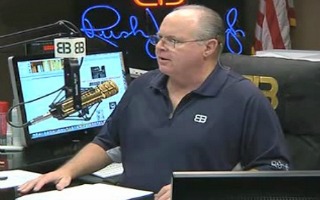 In a reference to allegations levied by Sen. Harry Reid (D-NV) who said GOP presidential candidate Mitt Romney paid no taxes for 10 years without providing proof, radio host Rush Limbaugh told his audience on Thursday that a source who went to Harvard University with President Barack Obama told him that the President received the lowest grades in the history of the university. Limbaugh said the source further alleged that Obama's professors would often cover for him when he did not show up to class. "It's up to Obama to prove it," said Limbaugh. "The allegation is out there."

RELATED: Rush Limbaugh: 'Without Equivocation, [President Obama] Hates This Country'
Limbaugh said that he was cajoled into taking a phone call from a potential source who told him the bombshell information about President Obama.
"Somebody, I don't know, said they went to school with Barack Obama at Harvard," said Limbaugh. "And the guy told me that Obama got the lowest grades that any Harvard graduate ever got and that a bunch of professors gave him B's and C's when he didn't even show up to class."
Limbaugh said that the source hung up right after relating this information.
"Now, this guy from Harvard said lowest grades anybody ever got at Harvard and professors covered for him when he wasn't even there," Limbaugh continued. He said that he asked the source if there was any proof that could confirm the charge, but he was told that there was none.
"So, I am calling on Barack Obama to release his Harvard transcripts," said Limbaugh. "Based on this – I got a call."
"I don't have to prove anything here," Limbaugh continued. "The burden is on Obama. He's the one that I've alleged got the worst grades in the history of Harvard."
This week, a furor has erupted over allegations made by Sen. Reid who said that investors with Bain Capital told him that Romney paid no taxes for a decade. On Thursday, Reid said on the Senate floor that the allegation was "out there" and it was incumbent on Romney to release his taxes in order to disprove the charges.
Listen to the segment below via the Rush Limbaugh Radio Show:
h/t Daily Rushbo
> >Follow Noah Rothman (@Noah_C_Rothman) on Twitter
Have a tip we should know? tips@mediaite.com