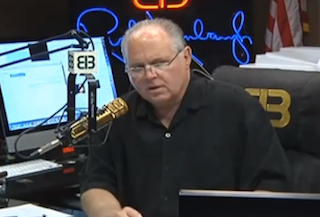 Rush Limbaugh decided to prematurely cut off one of his radio show callers Wednesday after the man brought up some troubling stories from the host's past. The call began under the guise of advocating for Limbaugh to receive a Presidential Medal of Freedom, but before long the caller was talking about that time the host "exchanged shoe boxes of cash for narcotics."
In an attempt to highlight similar honors Limbaugh has received in the past, the caller brought up a bust of the host that now resides in the Hall of Famous Missourians. "That, and you can correct me if I'm wrong," the caller said, "came after you exchanged shoe boxes of cash for narcotics in Florida, something that most people go to jail for–decades for mandatory minimums. They gave you a statue! I mean, you imported drugs into America with the Viagra deal down in Florida…"
At this point, Limbaugh cut his caller off, saying, "Oh, no sir. See you are a victim of, once again, totally distorted media reporting." He commended the "first half of your call," during which the man highly praised the host, as "exactly right." But as for the accusations about drugs, that portion was "filled with the usual leftist, bigotry, hatred and gibberish. And you don't have the slightest idea what you are talking about!" And, that was the end of that call.
In terms of that "distorted media reporting," here's what the caller may have been referring to. Back in 2003, Limbaugh was listed as a possible buyer in an illegal prescription drug investigation in Florida. Days later, he confessed to his listeners that he was addicted to painkillers and entered a rehab facility for 30 days. Three years later, Limbaugh was arrested for violating Florida's "doctor shopping" laws an alleged attempt to get multiple doctors to write him overlapping prescriptions. He pleaded not guilty and reached a settlement in 2009.
Also in 2006, Limbaugh was detained by DEA agents at Palm Beach International Airport after returning from the Dominican Republic with Viagra in his luggage that did not have his name on the prescription. He was ultimately released and no charges were filed.
Listen to audio below, via The Rush Limbaugh Show:
[h/t Mofo Politics]
[photo via screengrab]
— —
>> Follow Matt Wilstein (@TheMattWilstein) on Twitter
Have a tip we should know? [email protected]